Feature:
Casa Karen - Unique Cabo Del Sol Home
"I asked Fernando to paint the woman like he was making love to her…" -- Karen Redekop
Let me tell you about this most amazing house in Cabo. It is called Casa Karen, a 5 bedroom, 5.5 bathroom home in the exclusive Las Posadas community of Cabo del Sol on the Cabo San Lucas corridor. It has a fantastic mix of design elements from India, Indonesia, Thailand, Europe and the Middle East which combine with Mexican details to create a stunning, romantic and unforgettable home.
This house is even more remarkable because Karen Redekop, the designer, builder and decorator, is entirely self taught. A New Brunswick native and long time Cabo resident, Karen's actual degree is in chemistry and nutrition. She had just a six week online course. Yet with a keen eye and lots of natural talent, this self described frustrated architect has established an impressive body of work. Casa Karen is the fourth home she has built in Cabo.
It might be unorthodox to start with the master bathroom, but this one is truly outstanding. Atmospheric, elegant, exotic, you feel as if you have stepped into an oriental palace. A white marble bathtub sits at one end, next to an antique carved wooden arch that frames a view of fountains in the garden. The sinks are two round, marble bowls backed by large antique framed mirrors.
Karen discovered these lovely objects during her many travels. The bathtub, which weighs a ton, is Indonesian and carved from a single piece of marble. The wooden archway once graced the entrance to the courtyard of an Indian temple. The mirror frames are Indonesian, and the unique faucets come from England.
The wall facing the bathtub has a charming mural of a lake, painted in an Italian style. If you were in the bathtub, it would seem as if you were in a boat on the lake, about to dock at a little gazebo at the water's edge.
The master bedroom is simply exquisite- elegant and luxurious. The focal point is the bed, which has a carved, dark wood head rest, dreamy canopy and gorgeous French brocade bedspread. A boveda ceiling lends a Mexican touch. Large pocket doors open up the room and offer an incredible view of lovely terraces and gardens which you can also enjoy from the bed.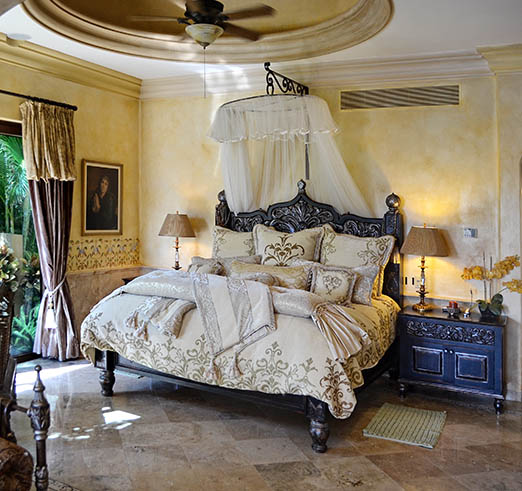 The abundance of beautiful views throughout the home reflects Karen's belief that a perfect view is paramount. For the same reasons that we all want the table with a view, or that travel is basically about views, a well designed house must have them. If there is not a natural view, Karen creates one. She believes that in an inherently beautiful setting like Cabo, this does not always have to mean an ocean view. A perfect view could be of the mountains, the land, even a sunset.
This idea holds true on entering the home, where a straight line of sight takes the eye through the main living area out to the patio, the swimming pool, the gardens, the development's Jack Nicklaus Signature Golf Course and then to the ocean beyond.
The view, pocket doors, high ceilings and open floor plan create a spacious and grand living area. It is defined by an impressive stone fireplace on one end, and an elegant dining table on the other. The fireplace was inspired by one at a winery in Stellenbosch, South Africa. Karen loved it so much that when she returned to Mexico, she had it reproduced by local craftsmen. She also raised the grate by twelve inches to allow an unobstructed view of the fire from all parts of the house.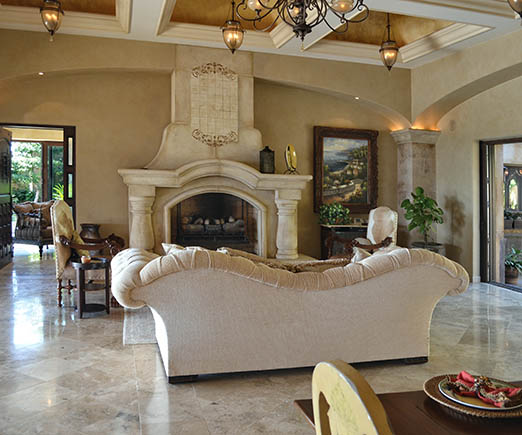 The dining table, which seats ten, is from Oman, and the handmade chairs from Guadalajara. At one end, a long, high backed seat is recessed into the wall to give more space. Its mate, an interesting carved bench, allows for easy interaction with people at the table or elsewhere in the room.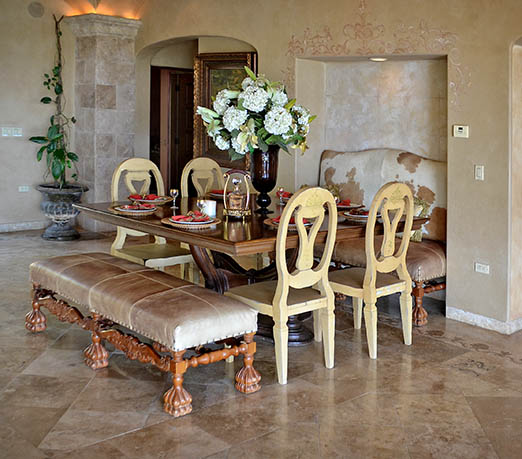 Equally important are the gardens and outdoor spaces. Beautiful landscaping adds to the romance and charm of the home. After you enter the front gate, you walk through a majestic, columned entryway with beautiful, carved antique Indian temple doors which open into a courtyard with lovely gardens and trellises.
Here, the main feature is a small stone bridge that spans a tiled pool with running water. It replaces a fountain which was originally in this spot. Karen decided that crossing a bridge would be a more interesting way to enter the house. This bridge has also been a spectacular backdrop at parties, where as many as a dozen Mariachis would gather to sing.
The home opens out onto a patio where an outdoor kitchen with pizza oven and salt water infinity swimming pool create an attractive outdoor entertainment area. As much care has been given to the design of the exterior spaces as to the interior, since so much time in Los Cabos is spent outdoors.
To one side of the patio is a fountain created by a mural of three women holding actual earthenware vats from which real water pours into a pool. Here, Karen was inspired by a painting of three women she had seen on a tile. Except that she found the central figure unappealing. So she asked Fernando, her muralist, to give the figure a makeover and create a woman with whom he himself would be attracted. Here is the result:
When Karen speaks about her work, she says that she tries to create timeless spaces that are like velvet- that are soft, and move and change with the light. Each room must be unique and invite you in with lights, candles, fire and water. Like a true artist, she is motivated primarily by her love of design. Her process is intuitive, allowing the site to dictate to her what must be put on it, and the views and style of the structure to determine what should be placed within. She sees the completed home before she even begins. Sometimes, this happens in her dreams.
Karen readily admits her good fortune- a supportive husband whose work overseas has given her the opportunity to collect from all over the world, and an unrestricted budget. She also acknowledges the contributions of her talented team of architects and local artisans, with whom she works closely to realize her vision. Among them are architect Yoshio Urakami, artists Fernando Naffarate who painted the murals, and Victor Hugo, whose special effects on the walls, ceilings and furniture help to complete the rooms. You can see some of Victor's paintings, in Villa Morelia, here.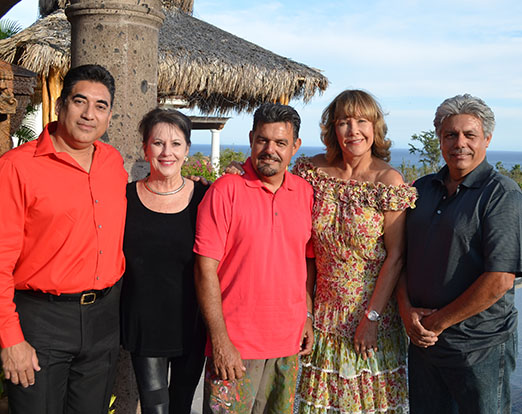 Yoshio, Debbie, Fernando, Karen and Victor
Karen thought this would be her last project, her permanent home. Yet five years later, the need to create again has her contemplating a move. She finds the process too much fun to resist. As she says, "We don't have much time on this earth, so we might as well be doing something creative which we love". How true.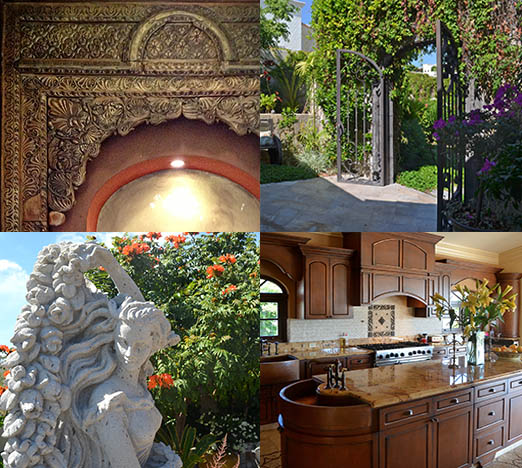 To set up a tour, please contact Debra Dodson at (624) 141-6894
Click here to see more available properties in this area.