Feature:
Casa Ventana al Cielo
Casa Ventana al Cielo is a stunning contemporary masterpiece by Mexican architect Juan Alvarez del Castillo of Mexico City design firm MAJAC. Consisting of members of the Alvarez del Castillo family, MAJAC brings together a number of related disciplines- architecture, fine art, design, construction and engineering.
In the design world, the Alvarez del Castillo name is synonymous with technical precision, formal beauty, new technologies, original solutions and permanence. Their buildings seek to transcend physical limitations to achieve a more holistic integration of nature and environment.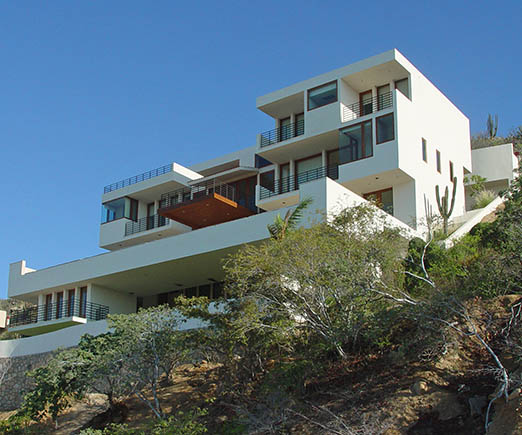 In view of their design philosophy, it is not surprising that MAJAC was drawn to Cabo San Lucas, where the natural beauty of the place offers a unique combination of desert and ocean landscapes. Situated on a high cliff overlooking the Pacific in Pedregal de Cabo San Lucas, Casa Ventana al Cielo is a perfect example of the MAJAC aesthetic, successfully integrating function and beauty within nature. This 9,027 sq. ft., 6 bedroom home, their first project in Los Cabos, is a true expression of their love for the area.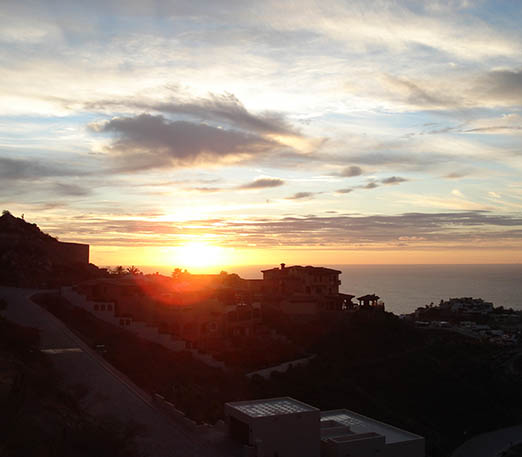 Alvarez del Castillo's design embraces the paradoxical challenge of creating a large structure with a sense of lightness that integrates easily into the natural environment of the mountain. For more about the challenges of building in the Pedregal, click here. This home was intended as a tribute to the senses and as an example of adaptation and integration into context. The result is a light filled glass, wood, marble and concrete window to the sky and the sea.
In order to take advantage of its high and steep building site, Casa Ventana al Cielo is oriented vertically on 5 levels descending from the street, each offering open floor plans and panoramic ocean views. A new elevator connects all floors.
On street level is a garage and two guest bedrooms. On the second floor below is the master suite, another guest room and maid's quarters.
The master suite is a large, sunny room with seating area, framed by two glass walls. On one wall, glass doors open onto a private balcony with amazing cliff-side views.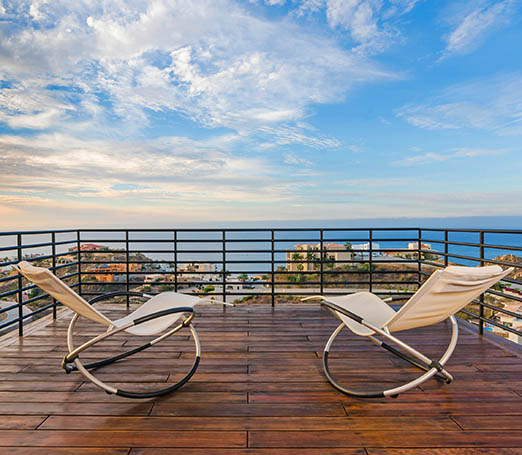 On the opposite, a glass wall looks onto a private rock enclosure. The effect of the glass is a wonderful sense of openness and light, and of being suspended in nature between mountain, sea and sky. An ensuite, modern bathroom with jacuzzi and large walk-in closet complete this area.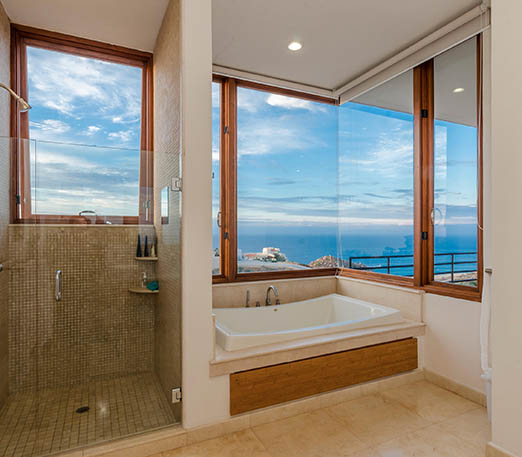 The third floor is the entertainment level of the home. The most noticeable feature is a glass atrium which opens down to the level below, and separates the living room from the kitchen and dining area. A desert garden and tree grow in the atrium, and give a sense of drama and artistry to the space.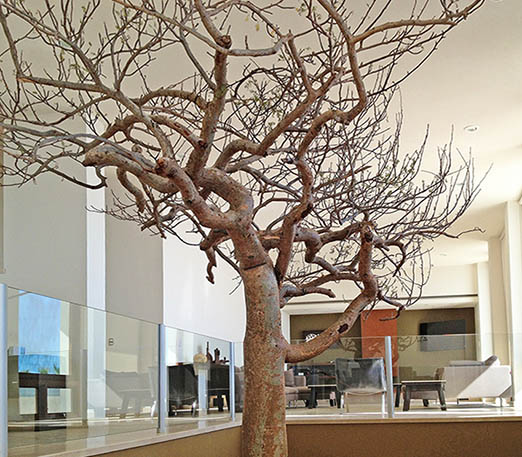 The living room opens onto a deck which includes an infinity lap pool running the entire length of the house, an outdoor shower and outdoor entertainment and kitchen area.
Stairs next to the atrium lead to the next level, where there is another bedroom, gardens, and a glass enclosed gym where one can enjoy the stunning views while exercising. There are more gardens and a sixth bedroom on the lowest level.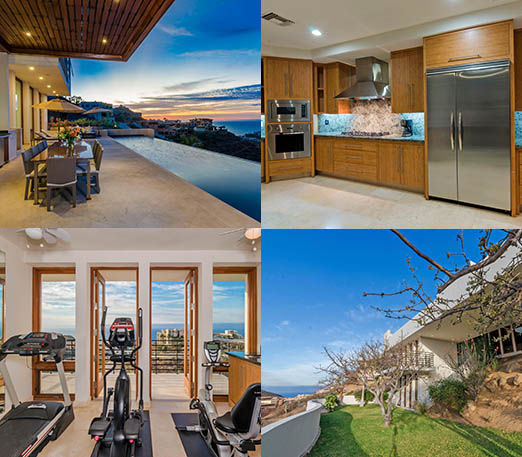 Casa Ventana al Cielo is indeed one of the distinctive homes of Los Cabos.
Click here to see more available properties in Los Cabos.