Interesting Home Series:
Accidental Bird
Let me tell you a story. About a house, a quest and some clever birds. The good kind, with adventure, suspense, magic and a happy ending.
The house in question is a marvelous, quixotic structure at the end of a twisty lane in Todos Santos, where you find hand written street signs and glorious thickets of flowers cascading over private walls, their colorful petals sweeping your windshield as you go by. An idyllic getaway in a very pretty place on Cabo's Pacific side.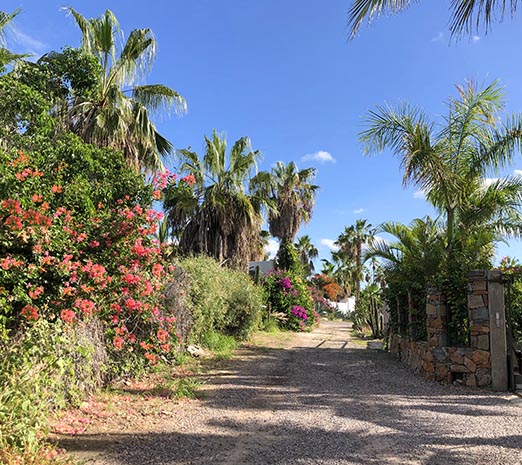 Inspired by a bird which flew in one day, Accidental Bird is as unique a structure as its name. Its brick construction connects it to traditional brick buildings common to the area. But it is also much more. You find creative use of pattern and ornament throughout, and a mix of several architectural styles- Mexican, Gothic and Moorish. Locals, in fact, call it the Moroccan House.
Through some wonderful alchemy, a pastiche of palapa roofs, boveda domes, decorative bricks, pointed windows, quatrefoil windows, a parapet, pillars and raised chimneys come together into a splendid expression of whimsy and romance.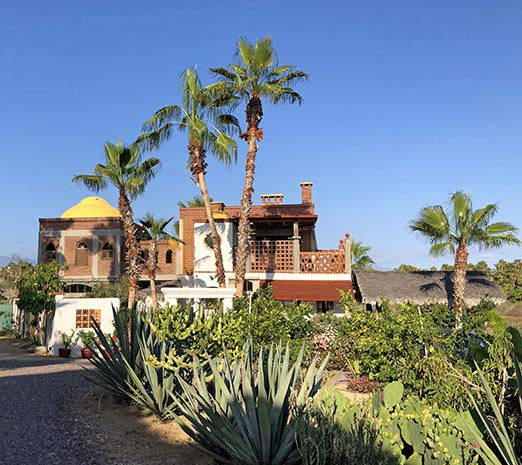 Martha and Dennis
For owners Martha and Dennis, it began one January four years ago when they packed their car and headed south with no specific plan except to escape the cold winters of their home in the Colorado mountains. 
They ended up driving down to Baja. They had never been to that part of Mexico before, knew very little about it, nor anyone who did. They camped on pretty beaches, explored the towns, San Ignacio, Mulege, Santa Rosalia, each one as wonderful as the one before but somehow, not enough. So they kept on.
Finally, they reached Los Cabos. The first night they stayed at Migrino. The next, further up the coast on a quiet beach in Todos Santos. When they awoke the next morning, they were surprised to find themselves in the middle of a big, happy party. It was Sunday- beach day. What a revelation to land in a lovely place with such friendly people and great energy. At last, like Goldilocks, they had found their perfect spot.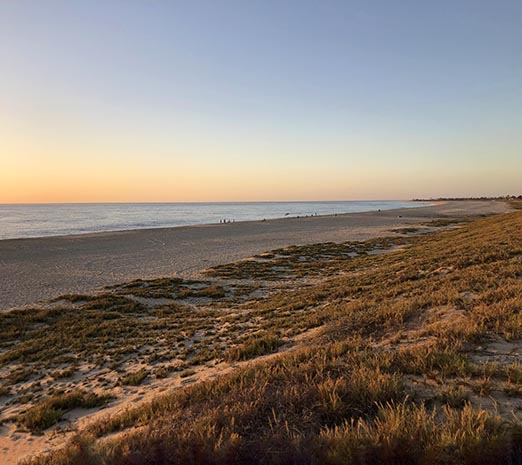 Birds
They returned the next winter, even though the original idea was to go somewhere new each year. But now they had friends and a place they liked.
One day, on a whim, Martha asked Dennis if he was interested in checking out some houses? Not to buy, but to visit. She was curious about the local architecture. Sure. So Dennis researched some properties, found an agent.
Accidental Bird was the first place they saw. The agent apologized for taking them there- an "adult" house, contemporary, with granite and marble etc. was just up the street. As Martha tells it, "adult wasn't what we were looking for! We already have that in Colorado." Besides, they had fallen hard for Accidental Bird. For its spaciousness, light and charming, unusual details. 
They made an offer. But as soon as they did, the seller had second thoughts. Thus began an agonizing week of waiting. As more days passed, it felt like it wasn't going to work out. Despondent, the two went for a walk on the beach to try and lift their spirits. At water's edge, Dennis looked up and saw a group of seven pelicans flying overhead in a V formation. It seemed as if the birds knew something and were giving them a sign- V for victory. 
The pelicans were right. Soon after, they got the call they were waiting for. Accidental Bird was theirs.
Accidental Bird
Accidental Bird was built in 2004 and situated at the end of a cul-de-sac, on an embankment overlooking a landscape of rolling fields, farmland, palm trees and the ocean beyond. 
The adjacent property was also acquired with the intention of leaving it undeveloped. Part of it was made into a garden. To one side, a path takes you to a little meditation shelter overlooking the view.
Perhaps in a nod to the bird which gave the house its name, you find a birdcage by the front door and birds in the design of the ornamented front gates. Inside is a pretty courtyard with trees, flowers and potted plants.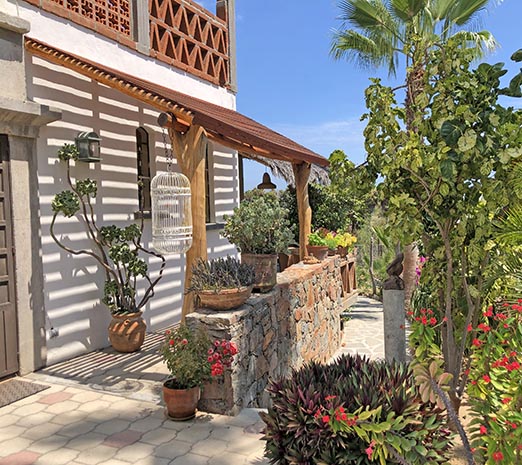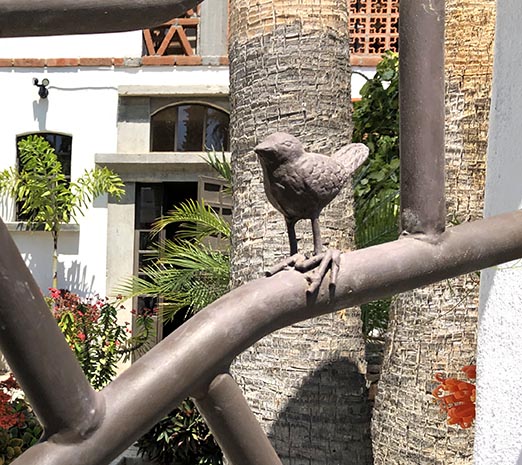 The house itself consists of two buildings connected on the upper level by a short walkway. Below the walkway is one of many charming curiosities, a white, palapa covered false wall that shields a small workroom. The building ends with a patio with palapa roof at ground level and a terrace with awning above.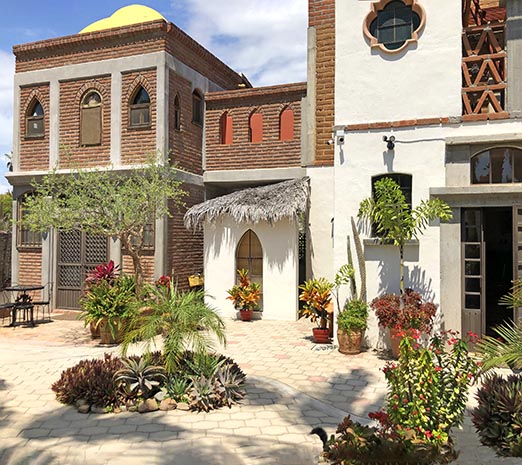 The windows are my favorite feature. Each one is a unique variation on the pointed window style, giving the house its exotic yet playful feel. The Moroccan vibe is enhanced by metal doors which have a round, geometric design. 
Pattern and geometry also distinguish the simple construction of the upstairs balcony and awnings. Here, the horizontals of the wooden awnings play off bricks arranged in a chevron design and breeze blocks with trellis motif.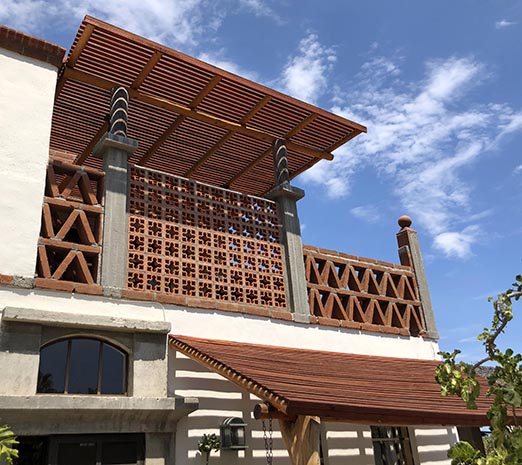 When you enter, high ceilings and large French windows with a transom create a light, airy and spacious open living room and kitchen area. A big fireplace in the lounge area, the kind you see in country houses, is the focal point, and a nice complement to the classical feel of the decor. Beyond the French windows are a covered terrace and BBQ area.
I like very much the artistic use of tile throughout, from the simple orange and white of the floor to the scattered squares of color in the white of the kitchen counter. Glazed reddish brown lantern tiles embedded in the cement stairs leading to the second level are also a lovely detail.
But it is upstairs in the private quarters where ingenuity and playfulness really shine. I love the mismatched windows in the master bedroom, its rustic, beamed ceiling, the little curved corner fireplace with the green, flower patterned tiles, and the private terrace with that wonderful view of the fields and the ocean. Who would not want to curl up on that little loveseat to enjoy the best view in the house?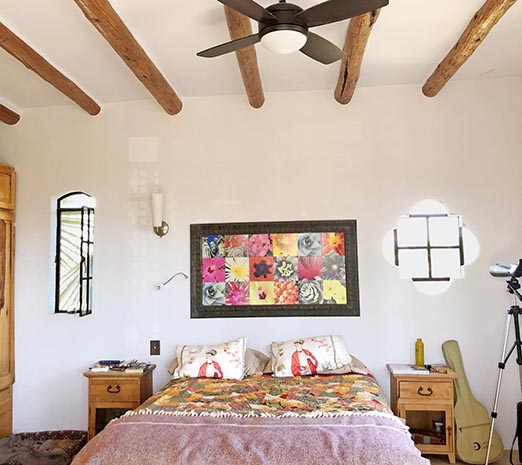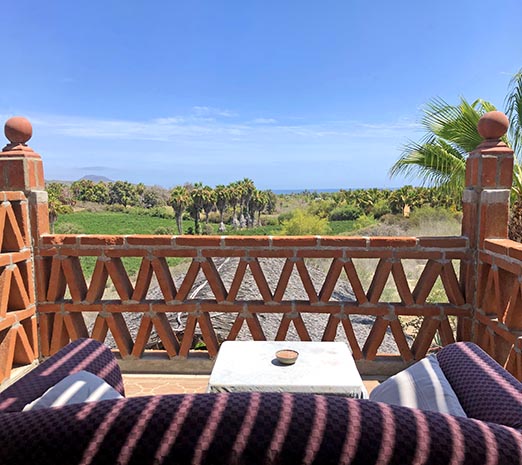 Here, you can also appreciate up close the cool design of the bricks and breeze blocks.
Peek into the master bathroom and you are in a whole other world. The main feature is the back wall that has a quatrefoil window and little, multicolored tile squares scattered throughout like confetti. Overhead, a small, brick boveda dome. Could this be a fun, mini hammam? A groovy little space capsule? 
From these quarters, you take the most surprising and charming feature of the house, a short parapet, to the other building. Flanked by rows of pointed windows on both sides and flagstones underfoot, I feel like I am in a casbah and that I should be making this walk in a hooded cloak. It certainly exemplifies the adage, your home is your castle.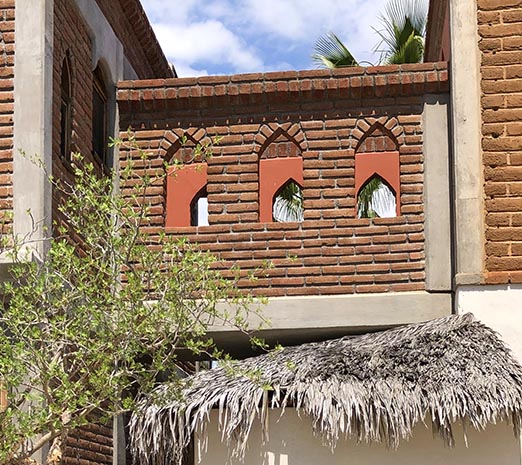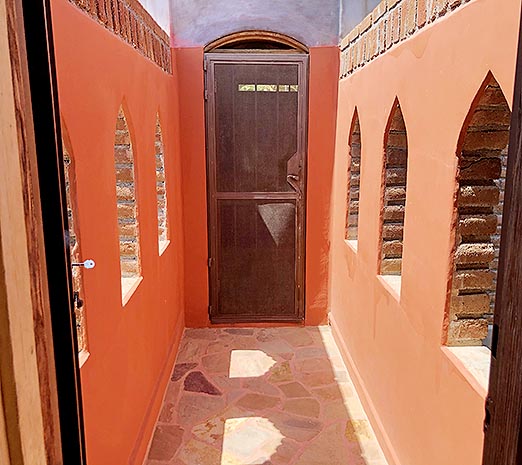 The parapet leads to a second bedroom, the ceiling a boveda dome whose exterior, painted a brilliant golden yellow, crowns the building like a giant, sunny side up egg. The windows, all different sizes and shapes, wood shuttered and screened, give the simple room an exotic feel.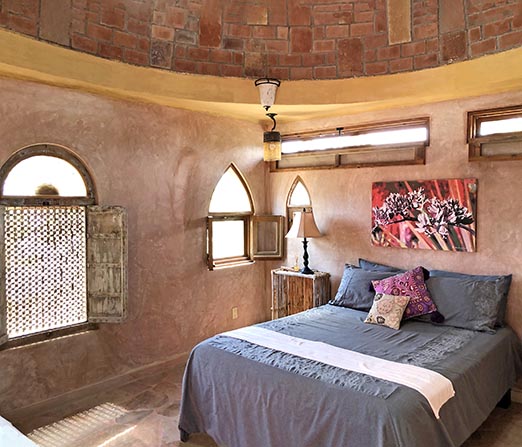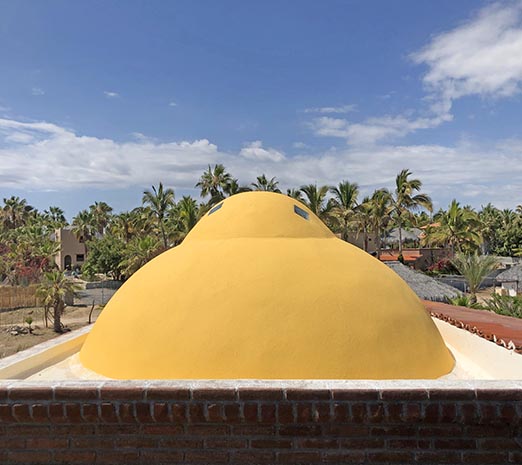 Next door is a bathroom with an old-fashioned footed bathtub and the sweetest little square sink.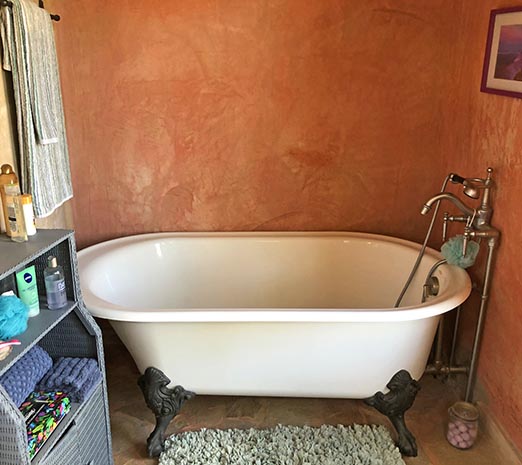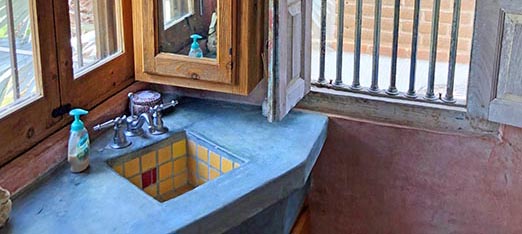 Downstairs, what was originally an artist's studio is now a self-contained apartment with kitchenette. I like the remnants of its original time as a studio- the large sink, an old work table and windows everywhere, especially the big French windows with transom that connect to the patio.
Behind, right at the back property line, is a guest favorite, a little wooden hut made of palo de arco that serves as an outdoor bathroom and shower for the studio.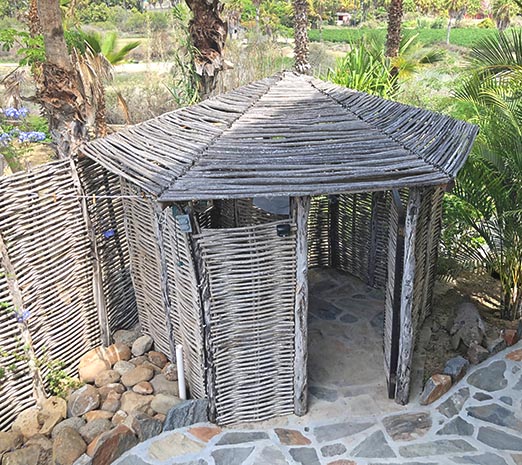 A flagstone path meanders through pretty gardens that encircle the house.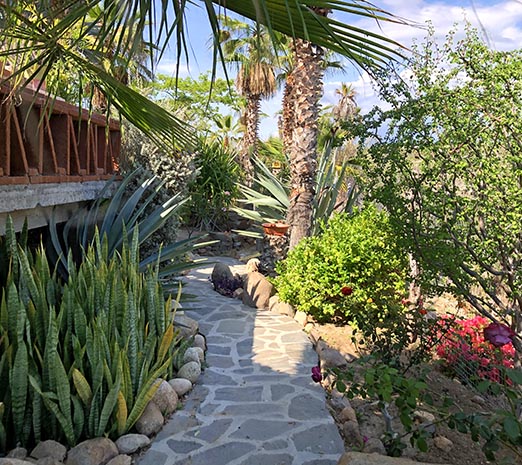 Tucked in a corner next to the outdoor shower is a lovely, carved wooden gate set between two concrete pillars. Its purpose is a mystery- it would open onto the adjacent property- so I think of it as yet another delightful eccentricity.
Accidental Bird was presented to Martha and Dennis as a house that was not "adult" or serious enough. And yet when I think about the imagination and ambition of its design, and the panache with which it was executed, I would have to say the opposite, that Accidental Bird is very much a grown up house. I treasure its spirit all the more in these complicated times, when I think we can all do with a little less serious and a whole lot more play.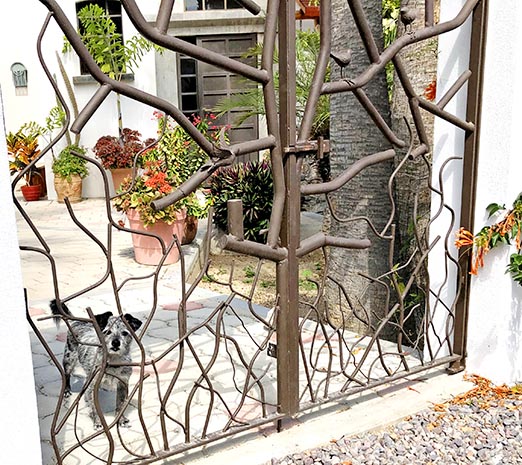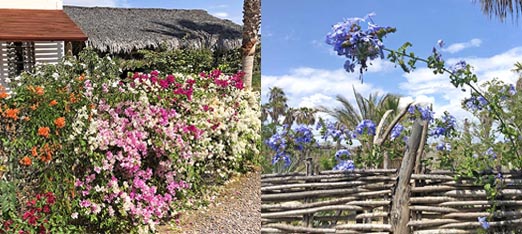 by Mei-lan Chin-Bing
We invite you to visit our properties on the Pacific side online