Interesting Home Series:
Casa Las Barracas
If I were a bird, Las Barracas, East Cape, would be my spot. Where I would fly high above sand and reef and watch as waves swirl over rocks below.
I would talk to the wind and play with the fishes, the mantas and the turtles. Here is where the blue of the water startles you, the light shines with clarity and fierceness. Miles of quiet beach stretch on forever. This is my Cabo, beautiful, wild and free.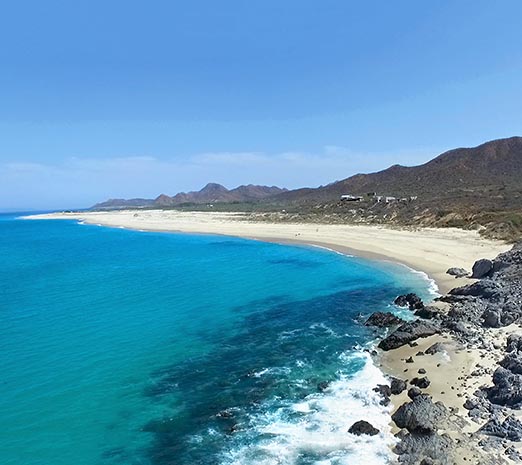 The main road takes you there, past rolling hills and pretty, sleepy little villages, sometimes no more than a bus stop, a couple houses and a bodega selling snacks and Pacifico. Road signs warn you to watch out for cows. Somewhere between Miraflores and Santiago, you cross the Tropic of Cancer. I think of this as a magical threshold, where you shed your city self and enter a purer, more elemental realm.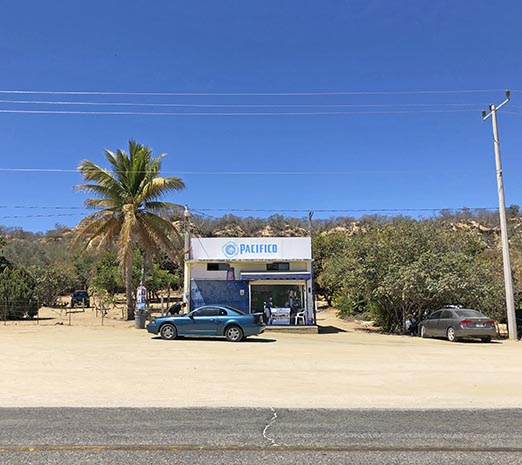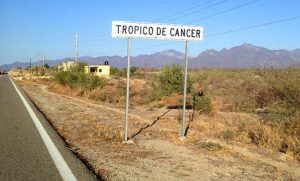 In the article I wrote to commemorate our magazine's 15th anniversary, I described our experience here as being personally the most profound. As we bring our anniversary year to a close with this issue, I'd like to return to Las Barracas to tell you about the wonderful house we stayed in when we were there.
For me, Casa Las Barracas is the perfect getaway, your secret weapon for when life gets too complicated or noisy. Imagine a terrific, unspoiled beachfront location on a beautiful cove inside Cabo Pulmo National Marine Park; calm waters, living reef, windswept dunes, even a little hill to jazz up the view.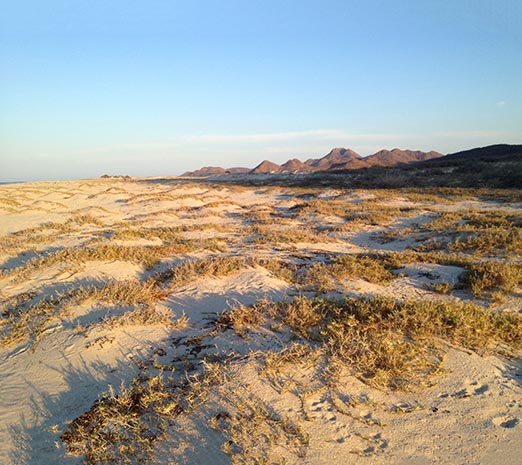 Then a romantic, old stone house in a simple, rustic setting filled with character and charm.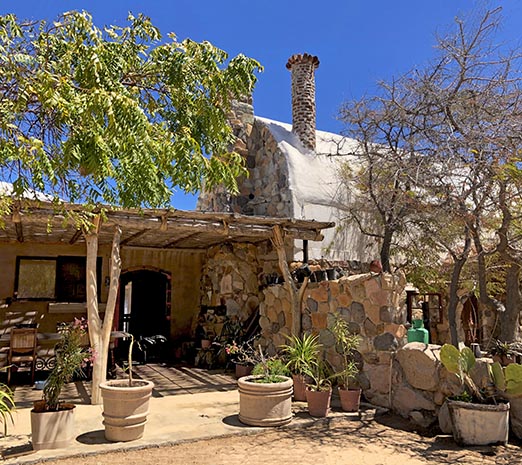 I love the peaceful, laid back vibe, the hand painted sign at the gate that says a different name, Estancia del Mar, a holdover from an earlier time that was never replaced.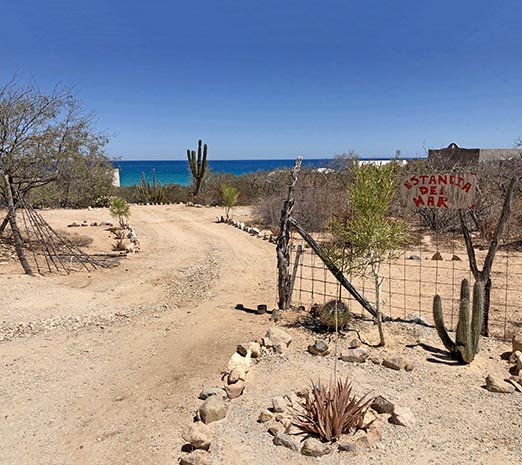 Owners Marsha LaTessa and John Domanic found Casa Las Barracas by chance in 2004 when they were looking for development property in East Cape. The original owner, Hans Bickel, was selling because he felt it was time to move on. He was in his 80s and his wife had died. As soon as Marsha saw the house, she turned to John and said, "we have to buy this." Asked to explain, Marsha's answer is simple: "Because it was perfect."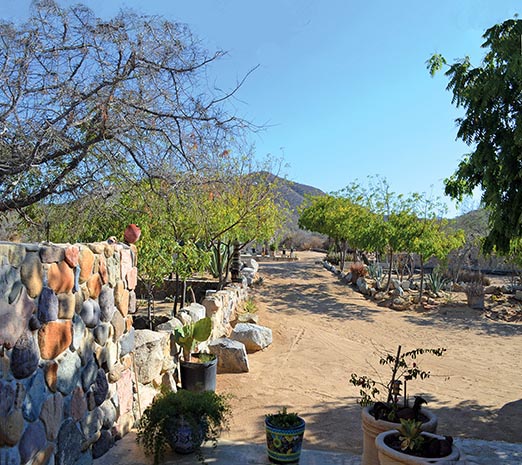 Hans Bickel was a photographer for the Saturday Evening Post based in Seattle. In the late 1960s, the Post commissioned him to do a photo essay on the west coast, through California all the way down the Baja. That trip ended at Cabo Pulmo because Hans had fallen in love with the area and decided to stay. He found 37,000 acres between El Rincón and Las Barracas which he bought with 2 other investors. But those two teamed up and forced him out, taking all the land except for 37 acres. Fortunately for Hans, those 37 acres were the best of the entire parcel, encompassing Las Barracas hill and cove.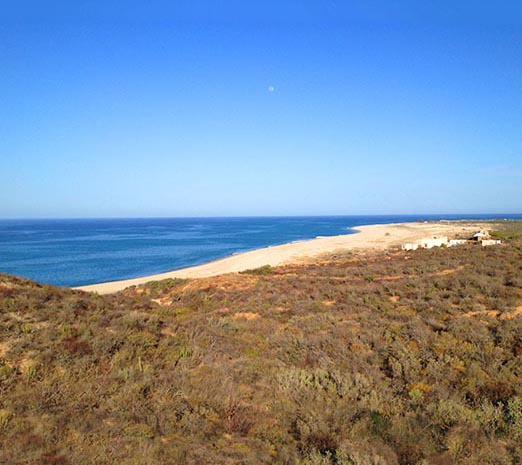 Hans was a real character, someone who chose to settle in an untamed area before paved roads or electricity, and then spent the next 20 years on a labor of love, building his home. In the beginning, he and his wife slept under a Tahitian style palapa. He was a one man construction crew, doing everything and making everything himself. The only time he had help was when he built boveda ceilings for the kitchen and bedroom. A barn was his wood shop and also a repository for fridges which he used to store tools so they would not rust. He used local materials and repurposed whatever he could find: a mast, ladder, ribs and other parts from shipwrecks, a mesquite tree destroyed by lightning. He would drive his pickup to Miramar arroyo, remove the hood, attach it to the rear and use it like a sled to drag big rocks, a couple at a time, back to his property to make his walls. He would tell stories about shipwrecks and had a missing finger he said was lost in a shark attack.
By the time Marsha and John met Hans, he had become a recluse. The great room, once a lively place where musicians would gather to party and jam on the piano, was now boarded up and stacked with old newspapers and photos. Junk cars littered an overgrown yard. Even so, Hans would get up every day, exercise, eat, and work on his house. Some of it was still unfinished when Marsha and John took over the 3.8 acre property. I am happy they decided to keep the house as it was and to make only cosmetic improvements.
A sweet, unpaved path edged with rocks takes you into the property. The gate and fencing- just wire and old, uneven wooden stakes, is my favorite of the enclosures you find in Cabo, low-key and so picturesque.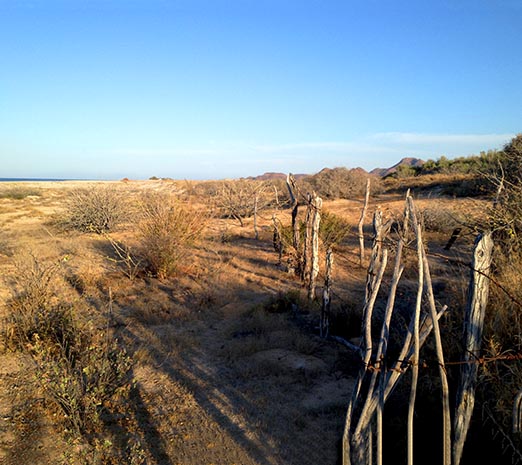 Marsha and John cleared out the cars, planted flowers and trees and turned the front yard into a lovely desert garden. The focal point is a graceful old shade tree in a round raised bed at the center.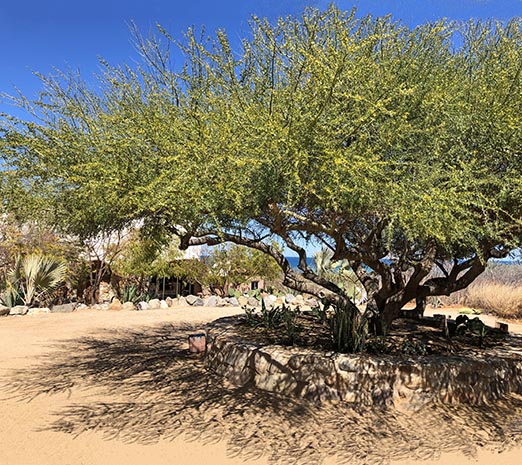 To the right is the barn where Hans kept his fridges and did his carpentry. It has great, weathered green doors and a Mission style parapet with small bell arch.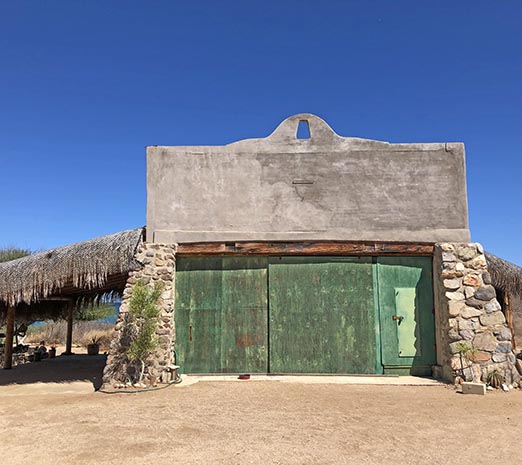 To the left, looking like the site of a cool archaeological dig, are the ruins of the original kitchen. My favorite detail? Kitchen utensils, a sieve and green brush, hanging from the big shade tree.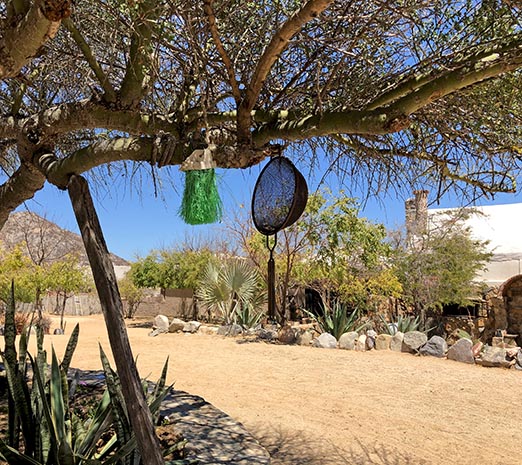 Arches and boveda ceilings in the architecture reflect the Mexican influence, but overall, Casa Las Barracas is much more an expression of Hans' personal vision. It is oriented horizontally and has three main sections: To the right is a distinctive stone structure with a high, barrel shaped roof that is the great room and loft. Rocks and a low stone wall demarcate a little garden area in front. Tucked next to this structure is a small bedroom.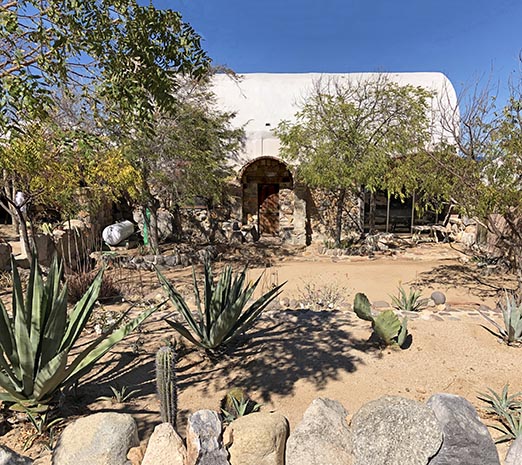 The kitchen in the middle section connects to private quarters on the left. An outdoor fireplace and shade structure made with sticks from the palo de arco tree create a little dining patio in front of the kitchen.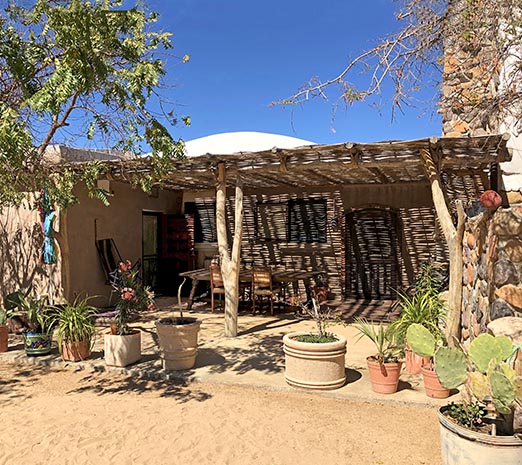 The great room and loft have benefitted most from Marsha and John's improvements, notably proper window frames and glass, a new mahogany floor and attractive iron railing for the loft.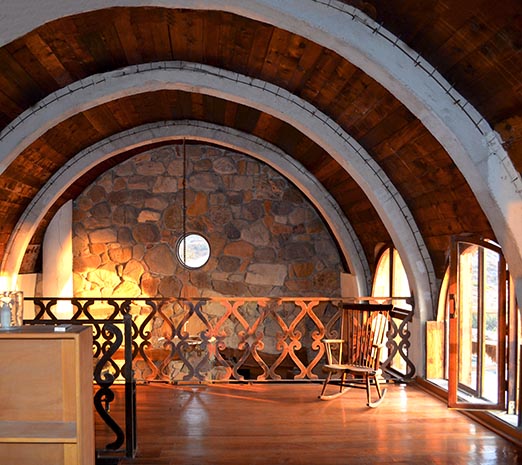 It is a cozy and cool space with stone walls, fireplace and a soaring, barrel vaulted ceiling made of dark wood that is supported by white wooden ribs, giving it a nautical feel.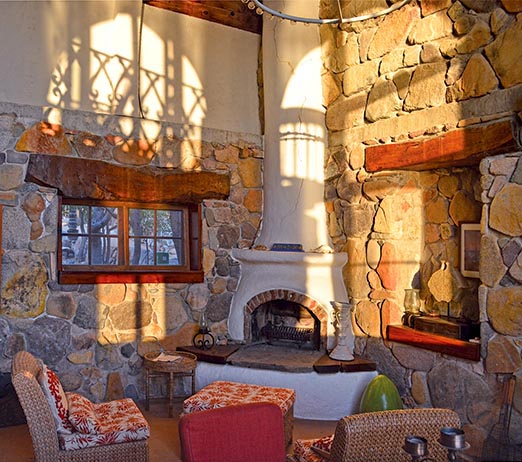 A fun chandelier, basically a metal circle ringed with light bulbs, reminds me of the halo of fire that encircles the dancing Shiva.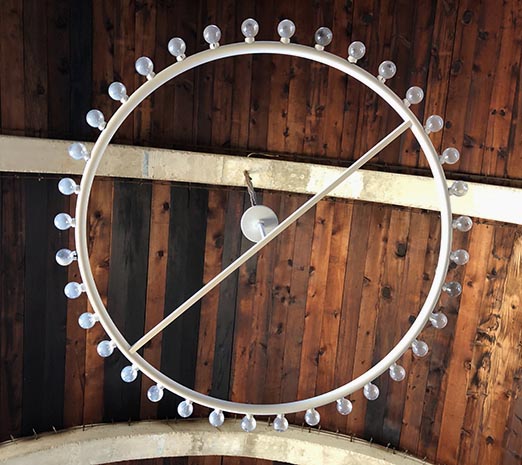 The engineering here is impressive considering that Hans built everything himself. The loft, which is also an extra bedroom, has a charming little Romeo and Juliet balcony with an amazing ocean and beach view. Before Marsha and John fixed it up, it was just a piece of plywood.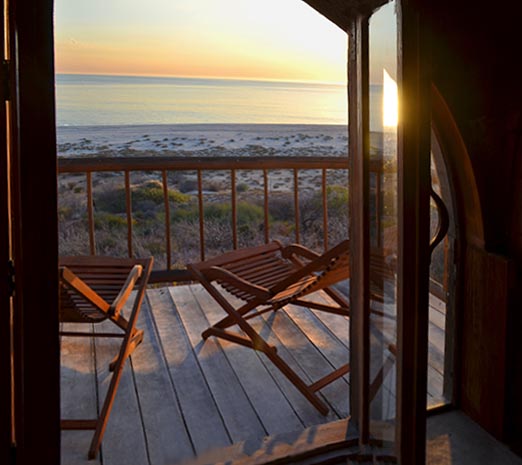 What a wonderful way to start your day, cup in hand, watching the daybreak from this high point.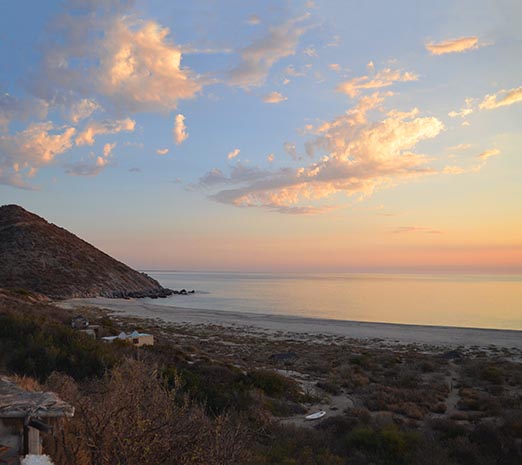 In contrast, the kitchen was left pretty much unchanged. It is a big, airy room with a great boveda ceiling, saltillo floors and ocean facing windows. To me, it is the perfect country kitchen, simple, clean lines, totally functional with lots of counter space and room to entertain.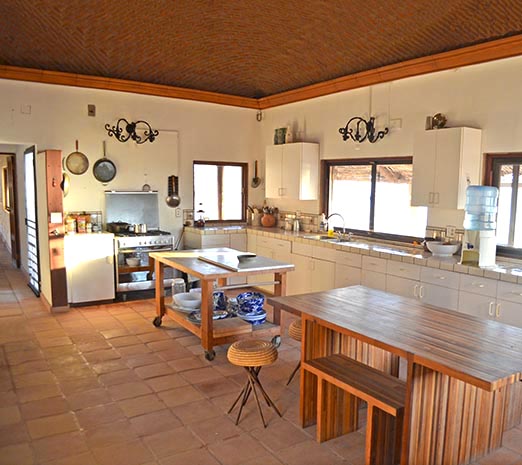 Beyond the kitchen and in the same place where the Tahitian palapa used to be are a large master bedroom and ensuite bathroom. Today, the grand piano, star of all those old parties, lives here, presiding over a sunny spot by a wall of books.
A meandering stone and palapa patio hugs the back of the house. For sentimental reasons, this is my favorite area because we slept here when we stayed over, on a daybed under the stars.
It was summer and incredibly hot; sleeping outdoors was preferable to being inside. I remember the night being very still and very dark. We were reluctant to use more solar energy by putting on lights. So we lay in the darkness and listened – to the waves, to a herd of cattle heading home from the beach, their bells tinkling in the dark. We woke up to see the sun rise over the water right in front of us. It was unforgettable.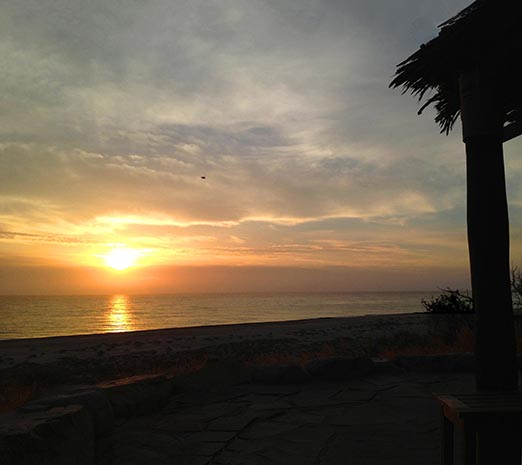 Finally, I must tell you about the stairs. It might seem excessive to rave about stairs, but I love the ones that lead down from the patio to the beach. They are rough and uneven, made from the same rocks as the house. They wend a path past tangles of beautiful wild dune bushes and plants. I can't think of a more appealing way to walk down to a beach.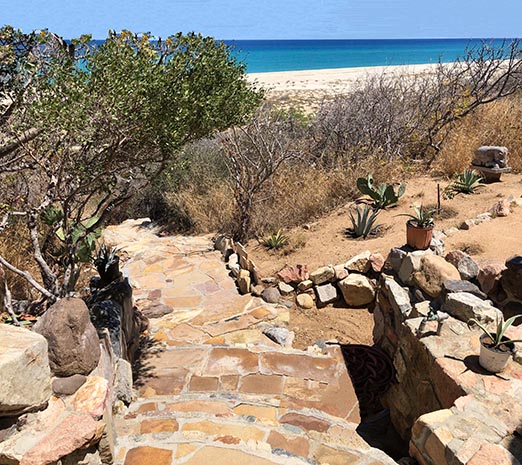 For John who is a great fisherman and lover of the outdoors, the best part of Casa Las Barracas is the ocean. "Its like living with an aquarium in your backyard." For Marsha, it is the stars at night. For me, the answer is harder to pinpoint to any one thing. How do you properly explain an attraction or a love? Casa Las Barracas, despite its obvious attributes, is to me not just a pretty face. I love it for something more, something inexplicable and in the bones. I do know, however, that when my world clamors and roars, I am that bird, flying high over sand and reef, speeding to the light.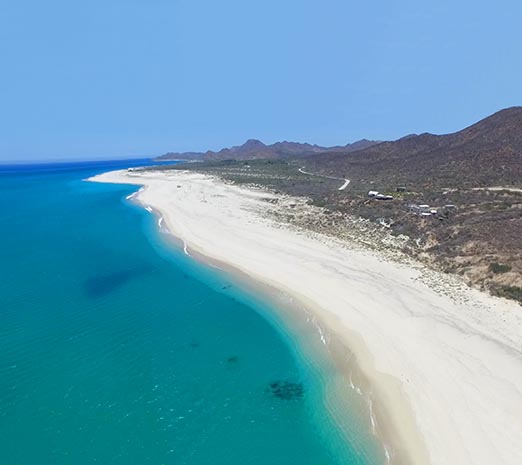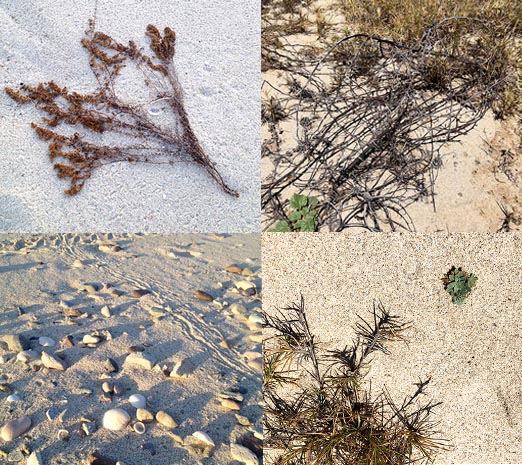 by Mei-lan Chin-Bing
We invite you to visit our properties in the East Cape online