Emma
Ocean front | San Jose del Cabo
Starting at 2.9M USD
Features
Luxury
Rooftop Terrace
Fitness Center
Oceanfront
Swimming pool
Paradise Found  – Unique Luxury Beachfront Residences Unveiled in San Jose del Cabo
What happens when one of Mexico's most acclaimed architects is given access to prime real estate on a signature beach in the heart of San Jose del Cabo?
The result is EMMA, a magnificent new property which boasts the most sought-after luxury beachfront residences in Los Cabos, the upscale resort area on the southernmost rim of the Baja California peninsula that's legendary for its coastal vantages and awe-inspiring ocean vistas.
The Backstory.   Alberto Vidal is a notable figure far beyond Mexico. The esteemed architect was educated in the U.S. and Mexico, and has won prestigious awards for his striking modernist designs on both sides of the border. Perhaps most famous for his work on high-rise buildings, Vidal's masterpiece, however, is a sleek six-story structure framed by palm trees, gorgeous golden sand, and a horizon-stretching expanse of breathtaking ocean blue.
The Residences & Their Unique Appeal. Vidal's vision was to use best-in-class materials to create one-of-a-kind luxury beachfront residences in the heart of San Jose del Cabo. But it isn't just the top-of-the-line construction quality that makes EMMA such a sought-after address. It's the expansive size of the residences, their elegant appointments, world-class amenities, and unique level of privacy that truly put these living arrangements in a class by themselves.
Despite its imposing six-story facade, EMMA houses only 16 residences. The 3- and 4-bedroom layouts range from 3,830 to 4,122 square feet, and dwarf comparable luxury beachfront residences elsewhere in Los Cabos.
The Amenities.  Few luxury beachfront residences in Los Cabos are large enough to encompass both an elegant foyer and den, but EMMA, of course, manages it in style, along with spacious state-of-the-art kitchens, expansive bedrooms, and over-sized family rooms notable both for their casual comfortability and exquisite design features.
These residences, in fact, were built with families in mind, an objective evident in the buildings' shared amenities, which include not only a capacious swimming pool featuring stunning ocean views, but also a game room, fitness facility, and onsite deli and bar. The latter may not seem family-friendly at first glance, but in addition to its evening cocktail ambiance, it's also a handy repository for juices and sodas during daylight hours.
For more information, contact us at:
MX (624) 142-6039, US (949) 200 6640   info@bajasmart.com
Marketed by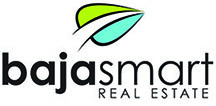 www.bajasmart.com
info@bajasmart.com