Interesting Home Series:
Riviera 3
Imagine going on holiday and being so taken by your vacation home that you end up buying it.
That would be the ultimate, wouldn't it? Where a perhaps-once-a-year ideal for most people becomes whenever-you-please. Well, that's exactly the story of Riviera 3, an ocean view, golf course residence in swanky Cabo del Sol on the Cabo San Lucas corridor. Whose owner, on a break from busy Mexico City 12 years ago, was so won over by the peacefulness and tranquility of this beautiful spot that he made it his own.

Cabo del Sol dates back to the 1980s when Robert Day and Don Koll purchased 20 miles of prime beachfront along the Sea of Cortez between Cabo San Lucas and San Jose from pioneer developer Bud Parr. It bridges the other great, early developments Palmilla (San Jose) and Pedregal (Cabo) and continues to be one of the premiere Los Cabos addresses. Today, it is a lovely, 1,800 acre community of exclusive oceanfront homes, resort hotels and award-winning, world class golf courses. Concurrent with all the changes going on in the corridor, there are also plans here for more homes and a Park Hyatt Residences.
I love the drive through Cabo del Sol, one of the grandest, most gracious tours through a planned community. You know you are somewhere special as soon as you make it through the first guard gate, when you find yourself in an impeccable landscape offering iconic images like a palm-lined road meandering through rolling green hills and fairways, or neat clusters of pretty houses hugging a brilliant blue coastline.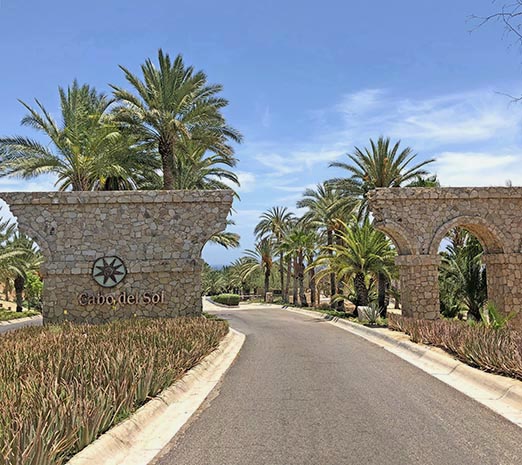 Riviera 3, as its name suggests, is a lovely, contemporary Mediterranean style home with traditional white walls and tile roof. A jazzy blue, white and green fountain in the front courtyard adds color and a hacienda touch.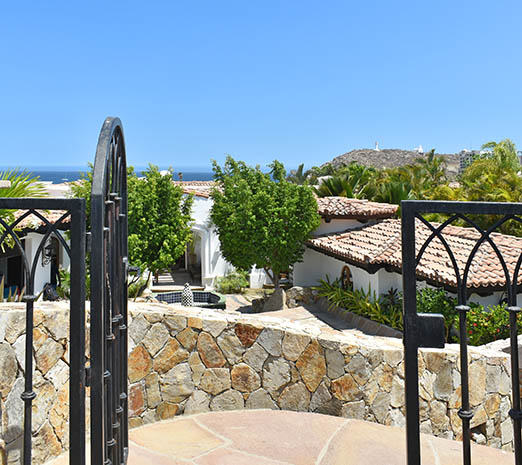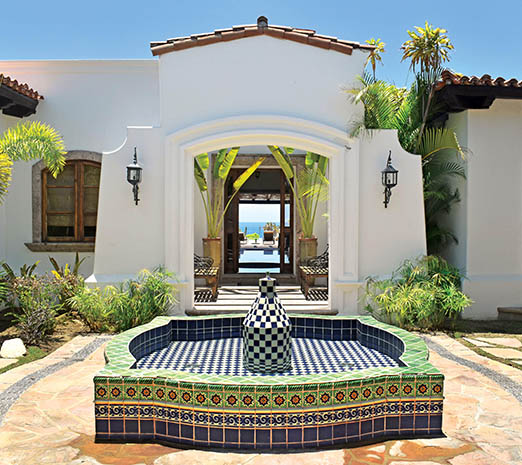 Open the front door and it is a gorgeous, straight on ocean view through the house and patio. Here, at this very spot over the water, is where the sun rises.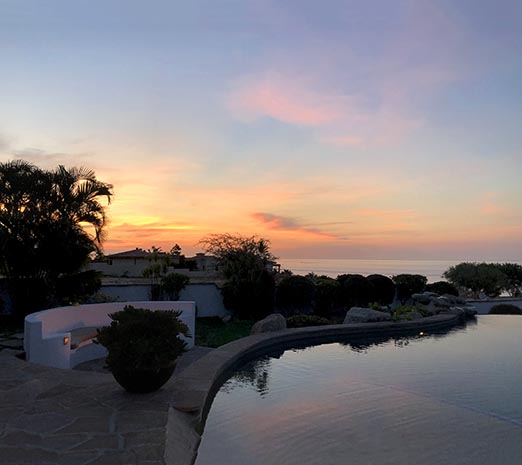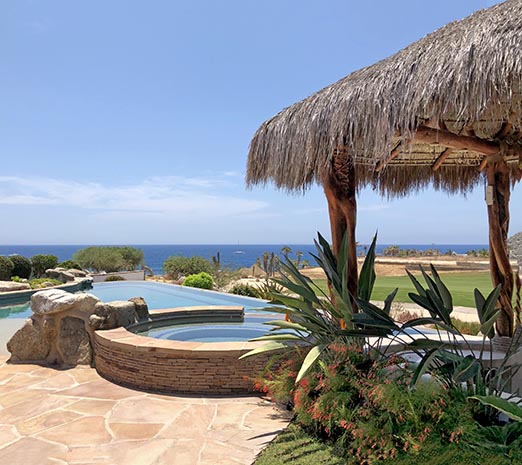 To the right is the 18th hole of the Jack Nicklaus Signature Ocean Course, a great open swath of green that only heightens the feeling of relaxation and quiet.
At daybreak, rows of sprinklers come on making fan shapes. Workers zip around silently in golf carts. Such domestic scenes are an interesting juxtaposition to the grandness of the site.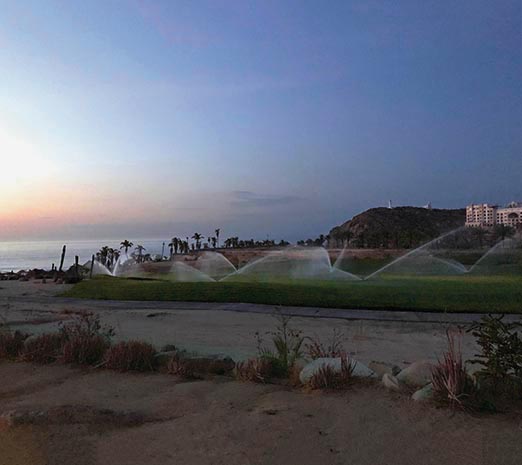 There are 4 main structures: a 4 bedroom, 4 ensuite bathroom main house, 2 separate 1 bedroom casitas on either side, and a maid's quarters.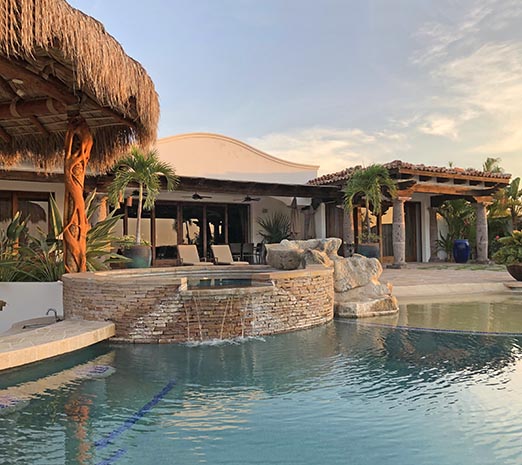 The house has everything you would expect of a luxury home in Cabo: a fancy entry with boveda ceiling and interesting floor mosaic, spacious, open concept living room with pocket doors that allow indoor-outdoor living, gourmet kitchen, custom marble and tile everywhere, the works. Traditional Mexican architectural details- pillars, rounds, arches and domes, coexist with the latest technology to give you the best of both worlds.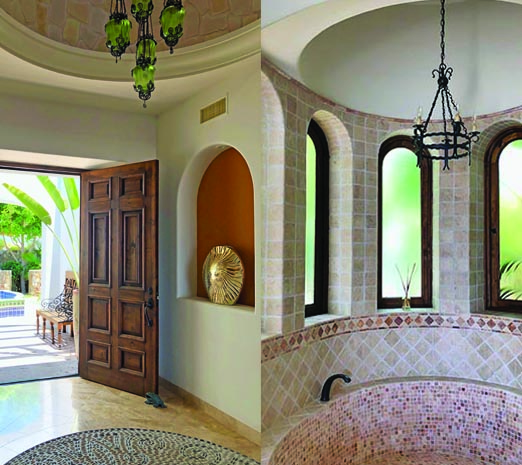 Vaulted ceilings throughout create a sense of openness and light while also serving to demarcate the larger spaces. You can see this in the great room, where a barrel vault ceiling supported by pillars crowns a walkway, helping to separate the back of the room from the front living area. Here, the vaulted ceiling is peaked with dark wooden beams.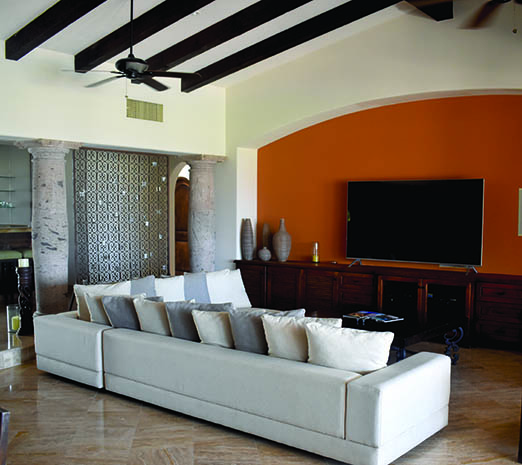 My favorite part, though, has to be the outdoor living areas, the patio in particular with that great ocean and golf course view. Central is an infinity edge pool and jacuzzi, framed by a fire pit/lounge area to one side and a palapa covered outdoor kitchen and dining area on the other. Everything you need for lazy days in the sun.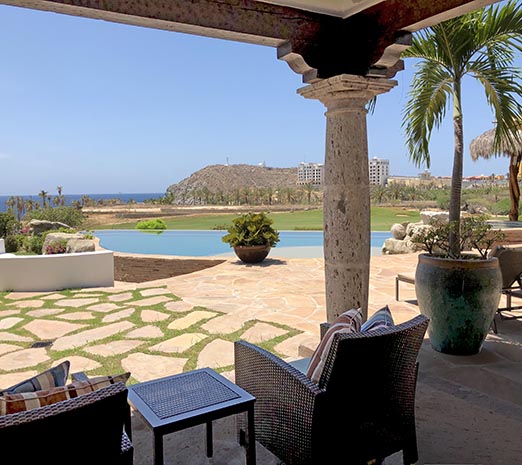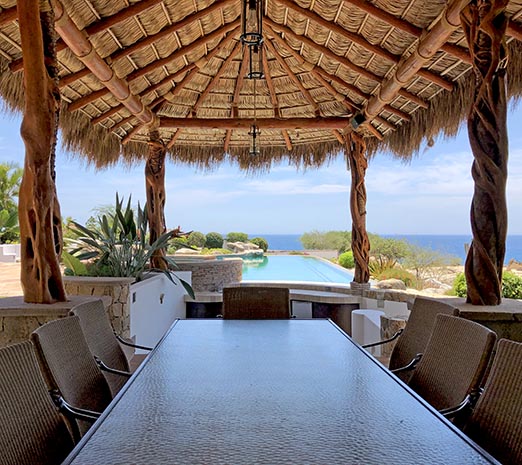 A shade roof made from sticks of the palo de arco creates a covered seating area just outside the living room, a nice transition from interior to exterior. Two master suites, one on each side of the house, also open here. How cool to walk out directly from bed for a dip before breakfast!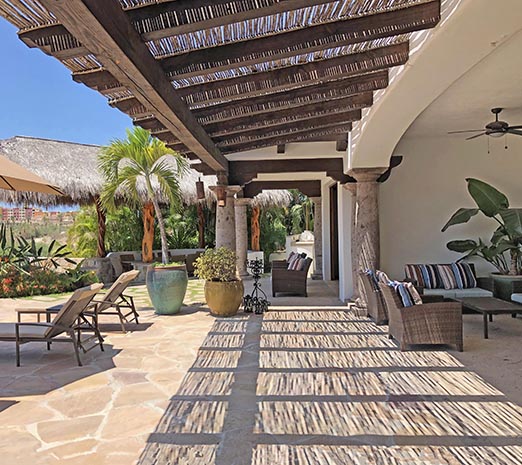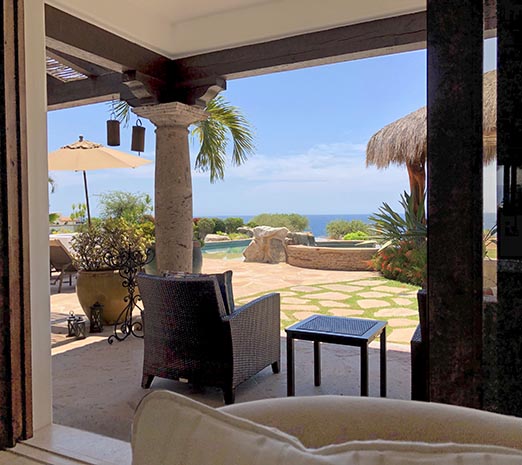 Another bedroom has a private patio, edged on one side by a dramatic rock pile that gives a surprising and cool counterpoint to this charming spot. These rocks, part of the original site and left in place as a decorative feature, are unique to many Cabo homes built in rocky terrain. Flagstones embedded in grass add a nice design and color element.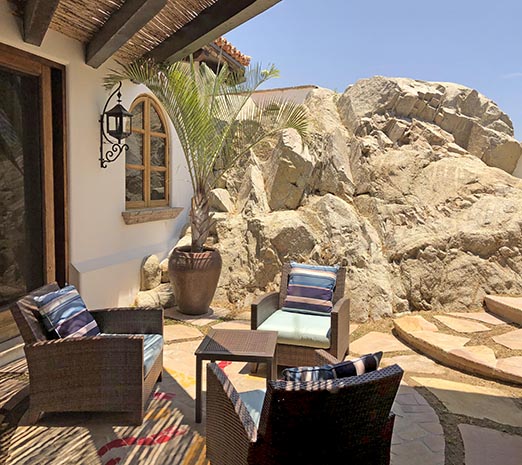 Thoughtful landscaping and the openness of the golf course give the impression of much larger grounds. I appreciate the tasteful use of palms, tropical plants and trees around the perimeter to create a lovely, exotic setting. Check out this little green pathway to the side of the house: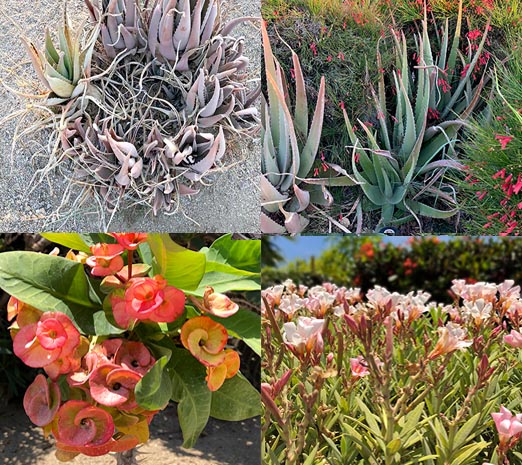 At night when the fire pit is lit and the pool lights come on, dining under the stars after a day on the links or by the water is what the Cabo lifestyle is all about. For me, though, I like Riviera 3 best at sunrise, with the sprinklers on the golf course making fan shapes, the world so quiet and the horizon the softest blues and palest golds and pinks. In this light, the pool is illuminated, mysterious and still.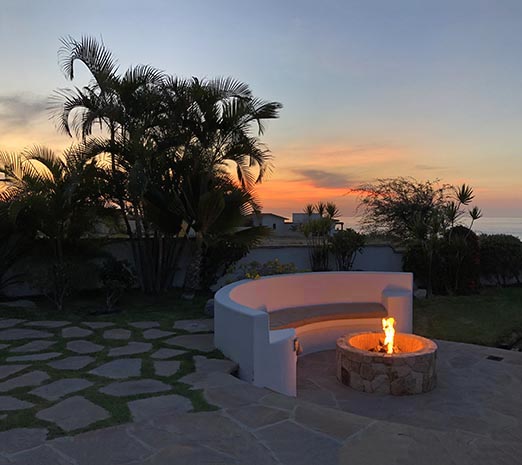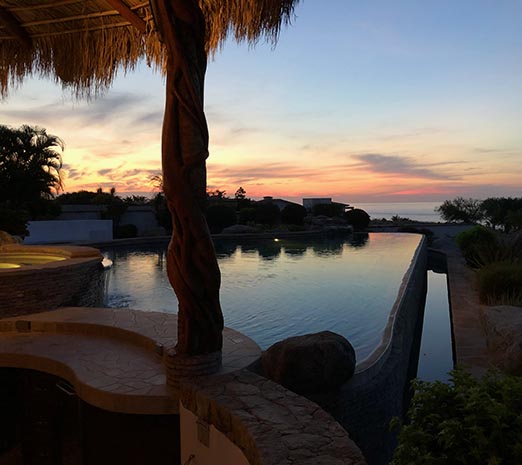 I have these romantic fantasies about how I would like to live in Cabo. A camper on a secluded beach perhaps, or a funny treehouse in a palm filled huerta. But after getting to know Riviera 3, I realize that there is another dream scenario, one quite opposite but just as appealing, that is elegant, gracious and luxurious. Where you escape to a beautiful, secure, landscaped environment, where comfort and exclusivity are key. Pair that with the natural beauty and attractions of Cabo- well, what more can I say except yes please?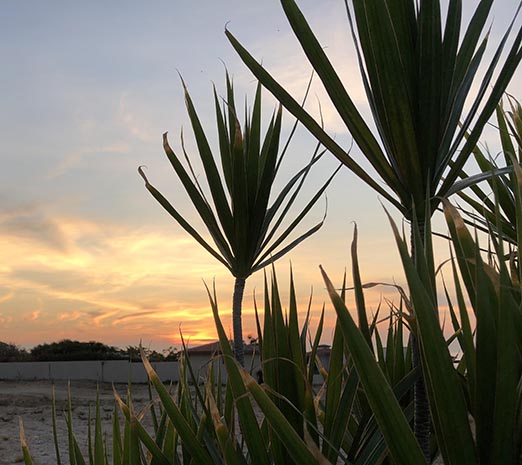 By Mei-lan Chin-Bing
We invite you to visit our properties on the Cabo San Lucas Corridor online