Interesting Home Series:
Gates of Los Cabos
I like gates. Often eclipsed by the flashier parts of a house, gates are interesting for an inherent contradiction: they ensure privacy, yet reveal so much- the architectural style of the house, the character of the area, or the interests and aspirations of the owners.
They are the first thing, the public face, the tease. I love their mystery and promise. If eyes are windows to the soul, then gates are surely a beacon to the house within.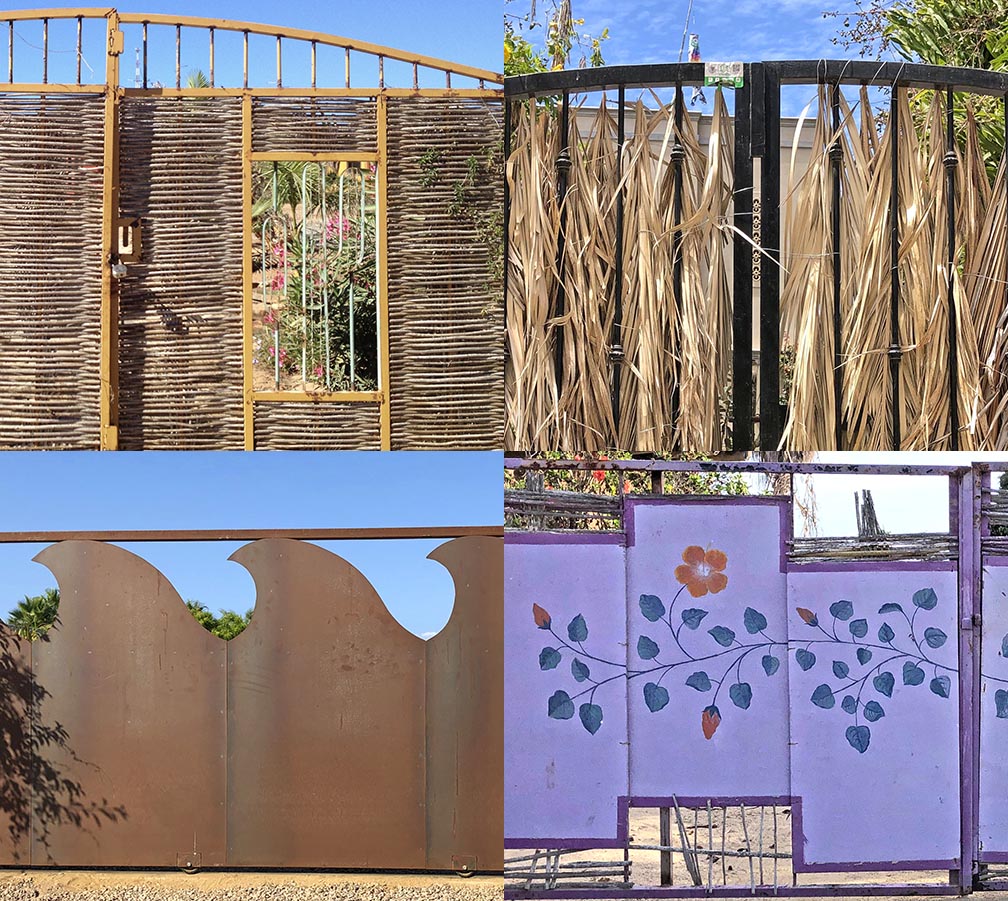 Explore Los Cabos and you will find all kinds of marvelous gates. They can be sophisticated and stylish like this mid-century stunner of luscious, aged steel.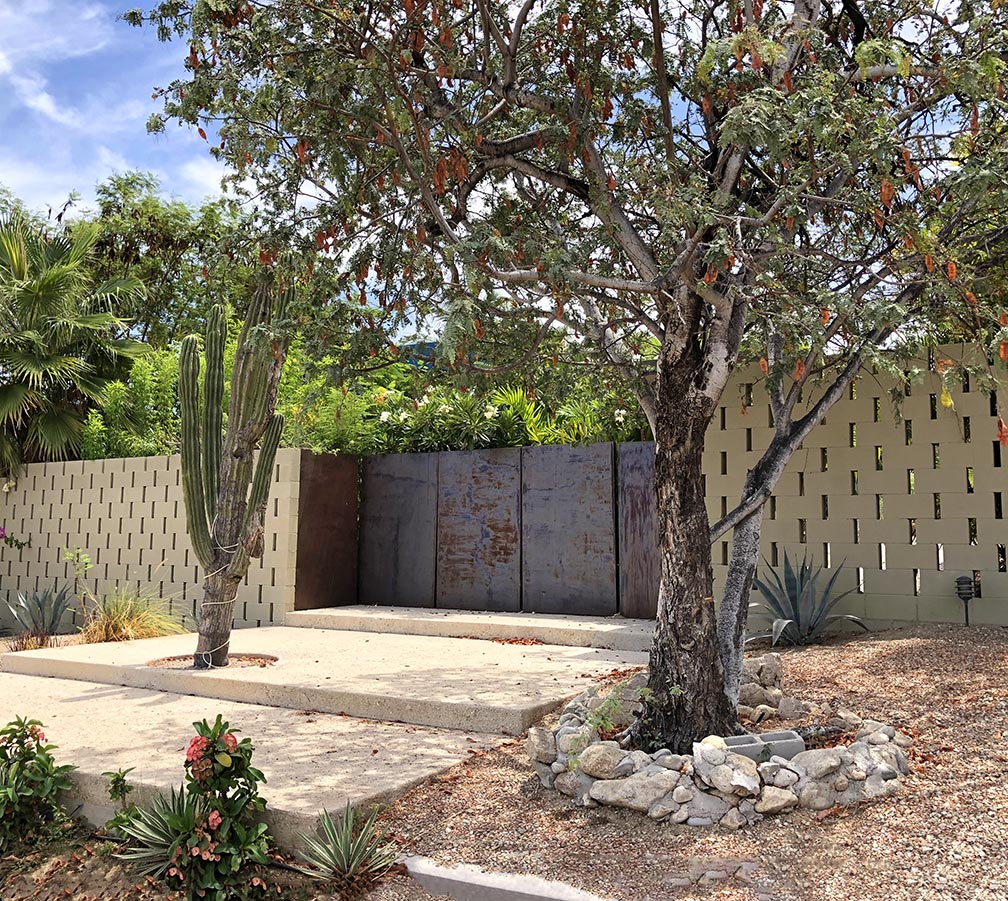 Totally tricked out and modern like this gate.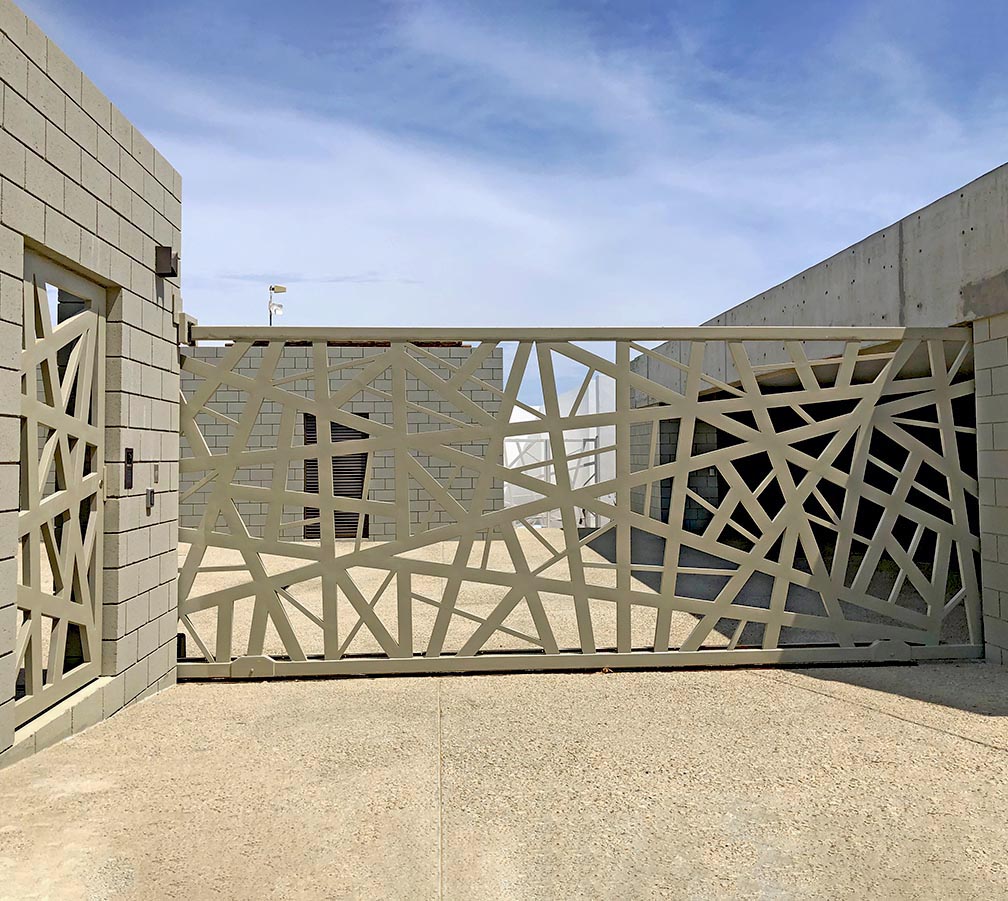 Or simple and casual, just a few tumbled stakes in the sand.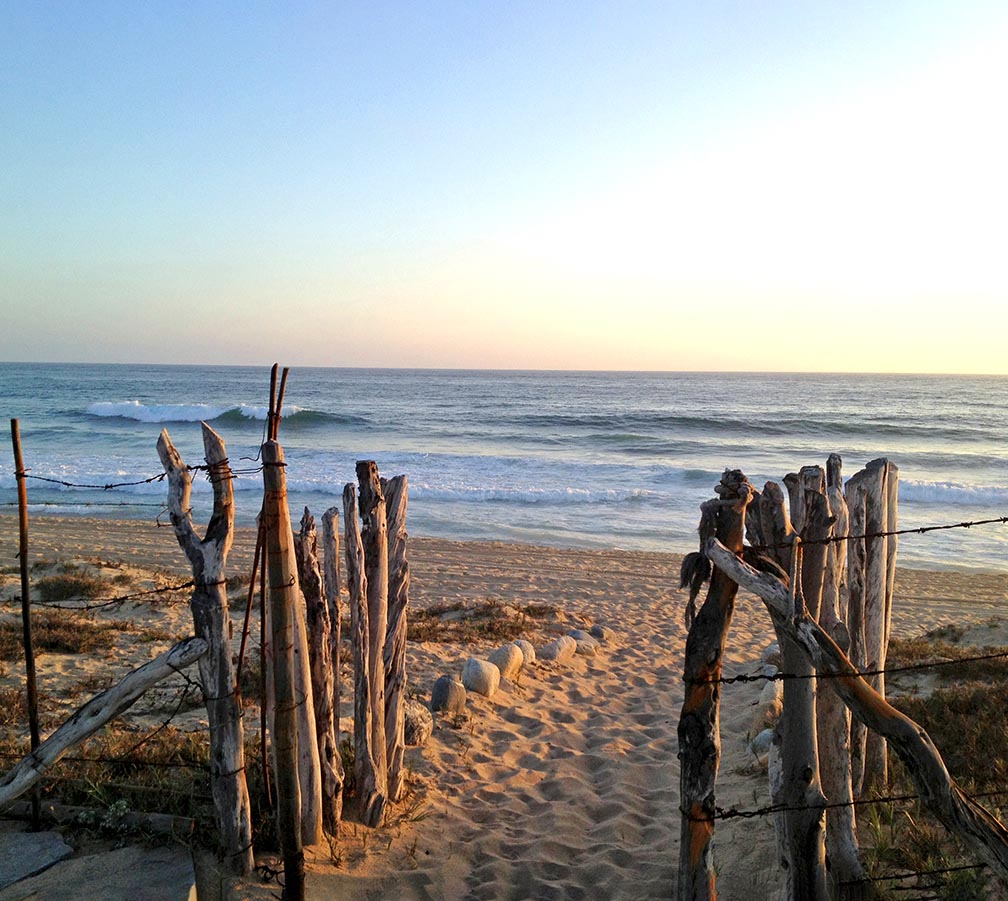 There is something about Cabo, a special alchemy of light and landscape, that elevates even the simplest design. Take this gate, for example, how its clean lines and bold colors come alive in the bright Cabo sunlight and desert setting.
If there is a Cabo style, it would be in the use of 3 main elements: sticks from the palo de arco tree, dried palm leaves and iron; basically a fusion of organic, locally sourced materials with a Mexican metalworking tradition that traces back to Spain. Here is a great example of this type of design. I like it for its elegance and simplicity- just six undulating abstract shapes of palo de arco and a metal frame. The two contrasting materials make a striking combination. With a garden of tall palms as backdrop, you can imagine yourself at the entrance to a romantic, tropical getaway.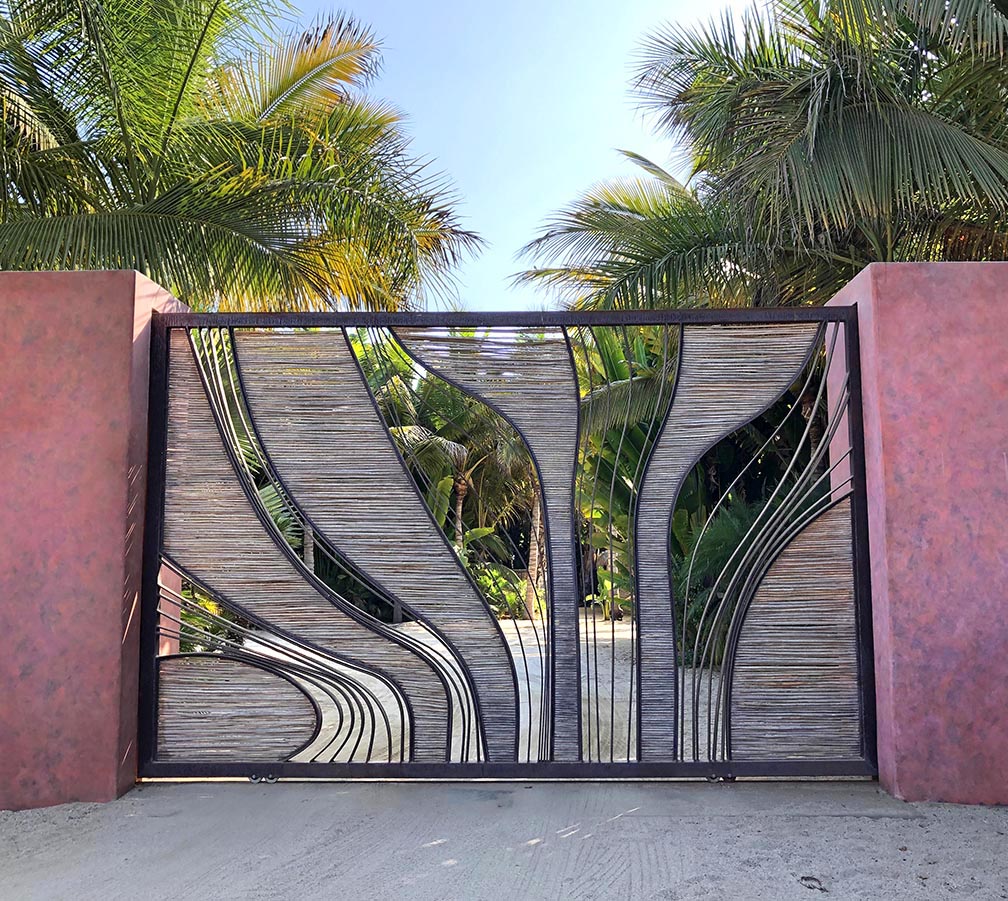 Often, this basic gate style is embellished with decorated posts, arches or ornamental metalwork. Sunshine and cacti are popular motifs. Sometimes, the palo de arco is woven or arranged in a geometric design. Here, a rising sun and sun's rays peek over double gates that have a diamond pattern made up of palo de arco sticks. Gate posts featuring a cactus mosaic continue the sunshine and desert theme. 
I like how the palo de arco in this simple wood framed gate curve in half moons to form a swooping wave pattern. I especially like how the two gates are asymmetrical and how one of the whorls actually extends upwards beyond the frame of the gate.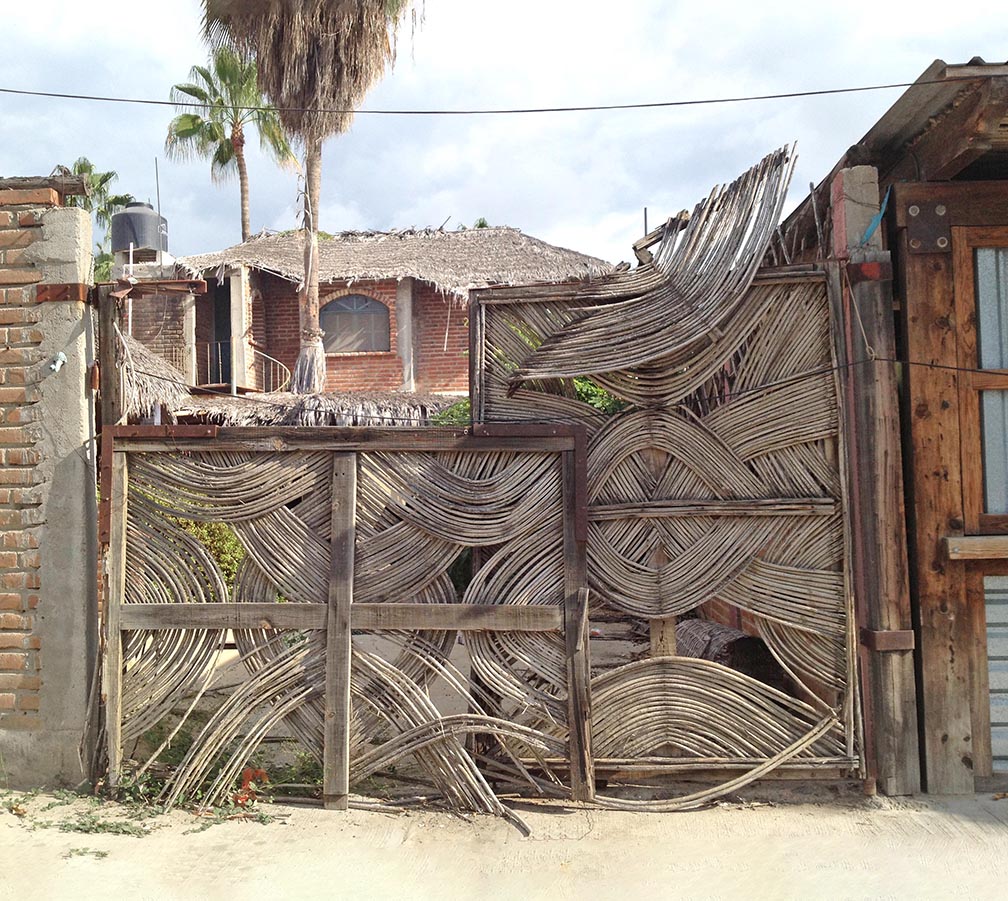 This interesting gate incorporates all three elements, palo de arco, palm leaves and wood, into an outrageous assemblage. The large shed behind suggests a workshop or studio.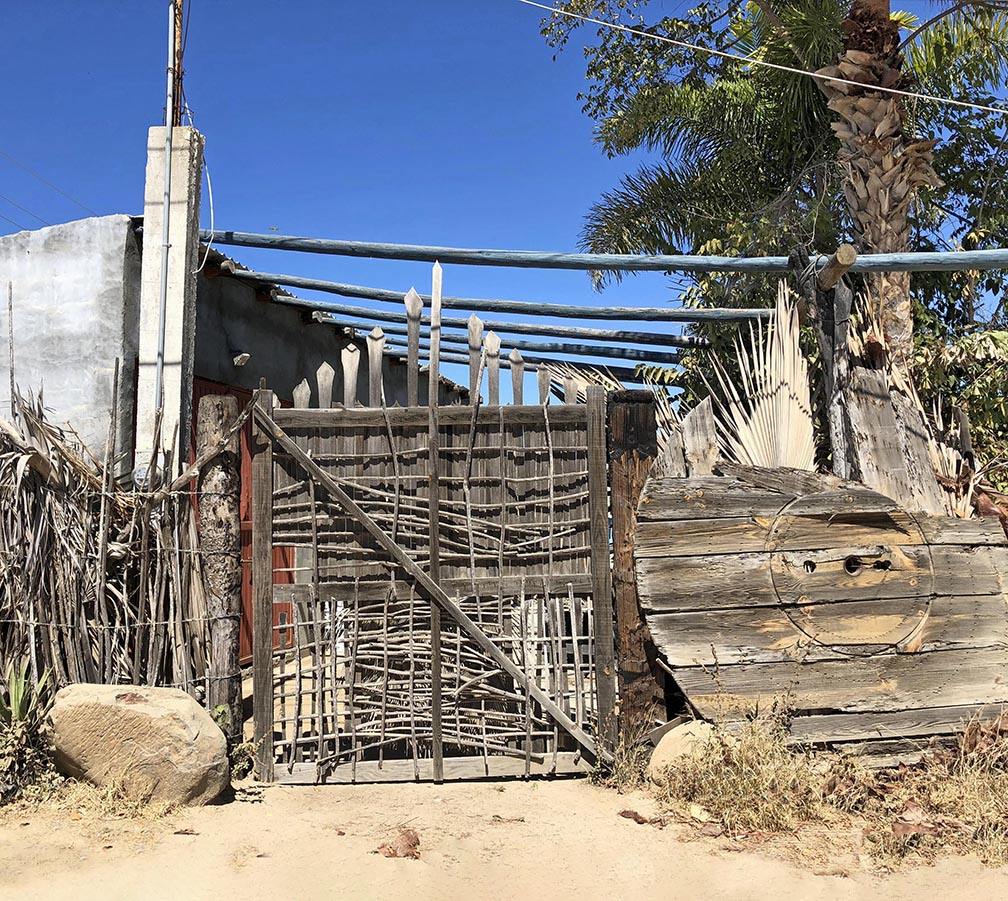 These pretty wooden gates have a very different style and feeling. They consist of recessed wood panels with whimsical carvings of birds, butterflies, flowers and sea creatures, all with little smiling faces. Colorful, rustic and so charming, they belong in a fairytale or enchanted place. Could their pictures be telling a story? Depicting something that is personally meaningful to the owners?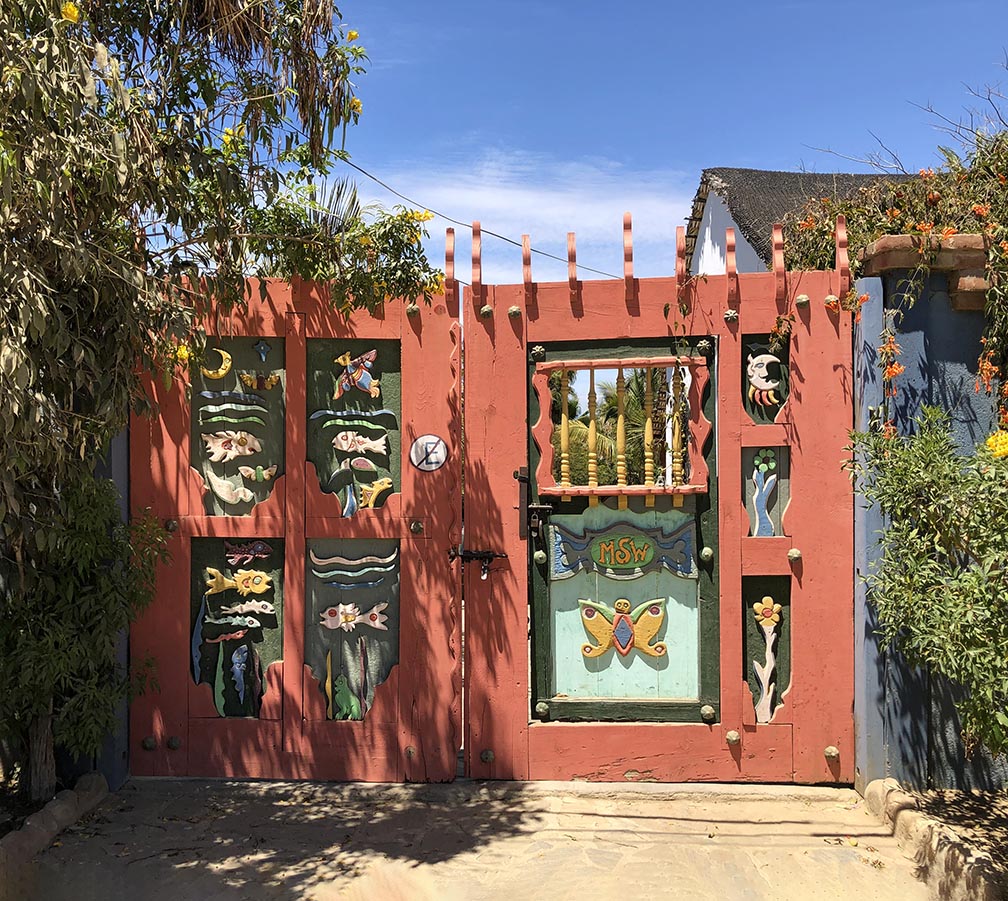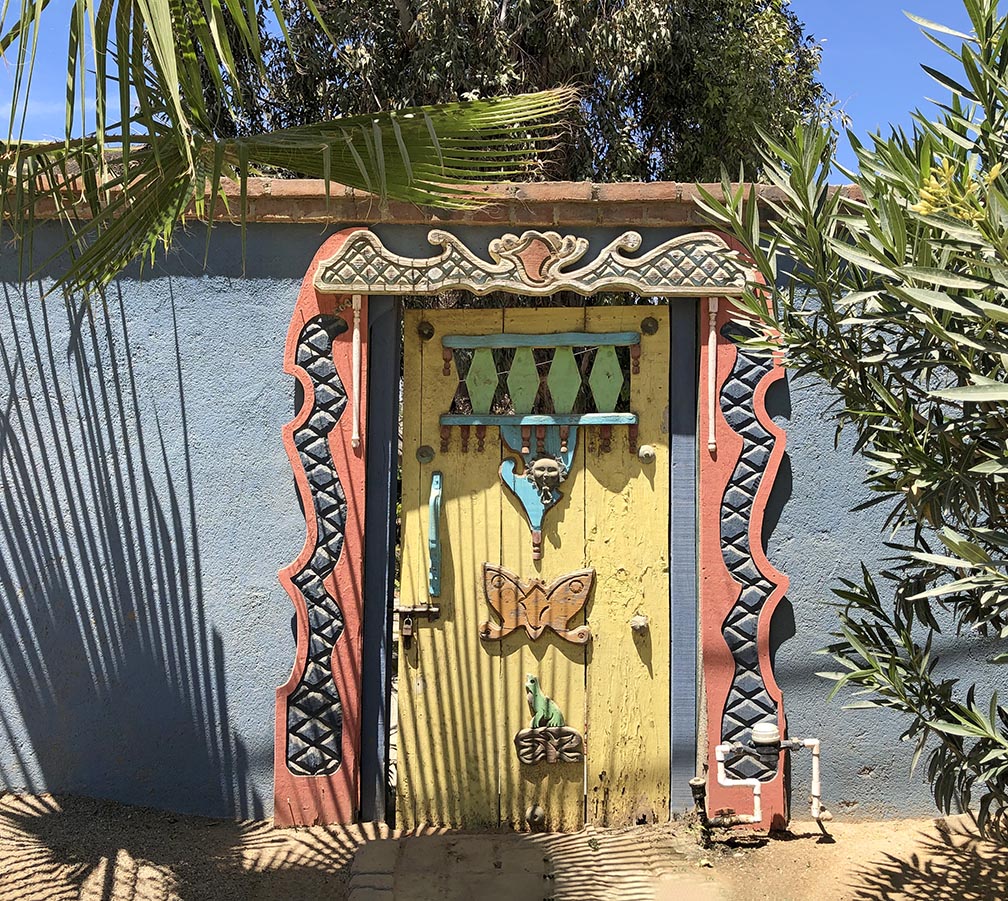 Here is a sister to these gates and another with more enigmatic carvings of a sun, moons, turtle and horned figure with outstretched arms. I wonder if it has a mystical meaning.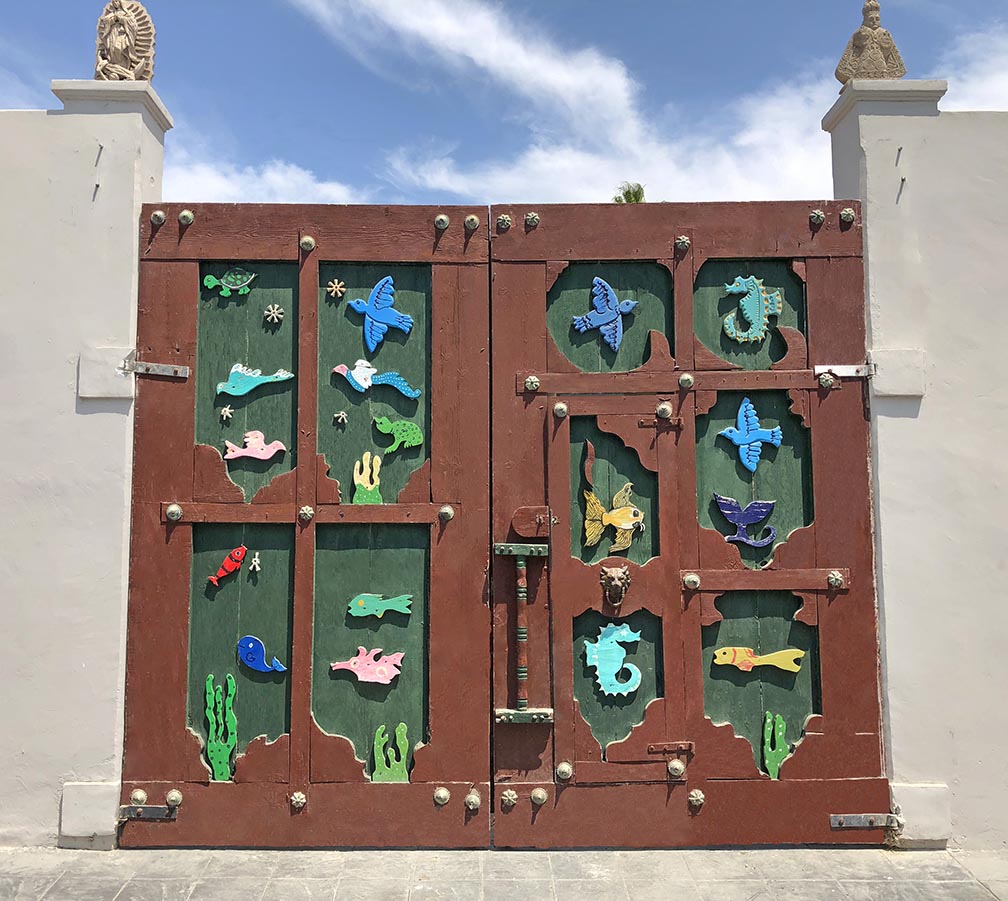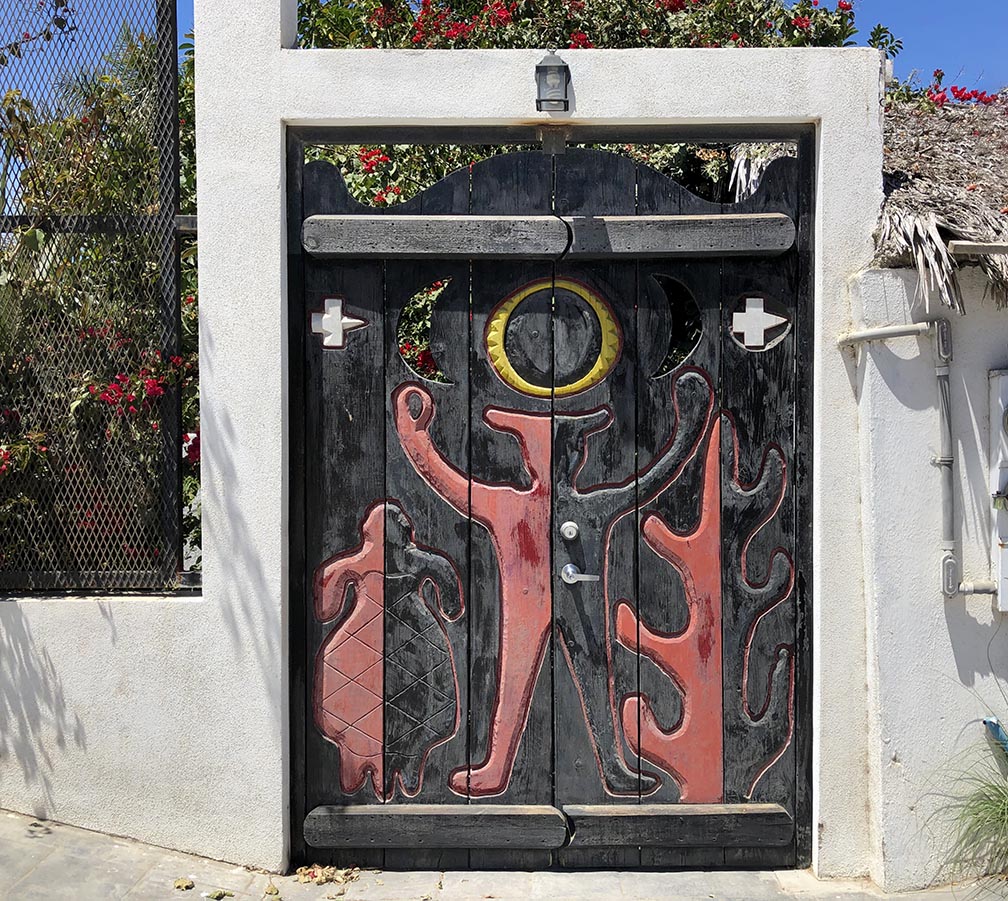 The owners of this house must have had a lot of fun coming up with their gate. They have certainly taken the use of color and symbolism to another level by creating a fun, eye-catching tribute to the ancient Maya civilization, replete with their own invented hieroglyphs, giant wall relief of Kukulcån, the feathered serpent god, and painting of the jaguar goddess Ix Chel with her entwined snake headdress. It would be incredibly cool if they continued this theme inside, building their own Chichen Itza with a pyramid as the main house and garden with carved columns and ball court.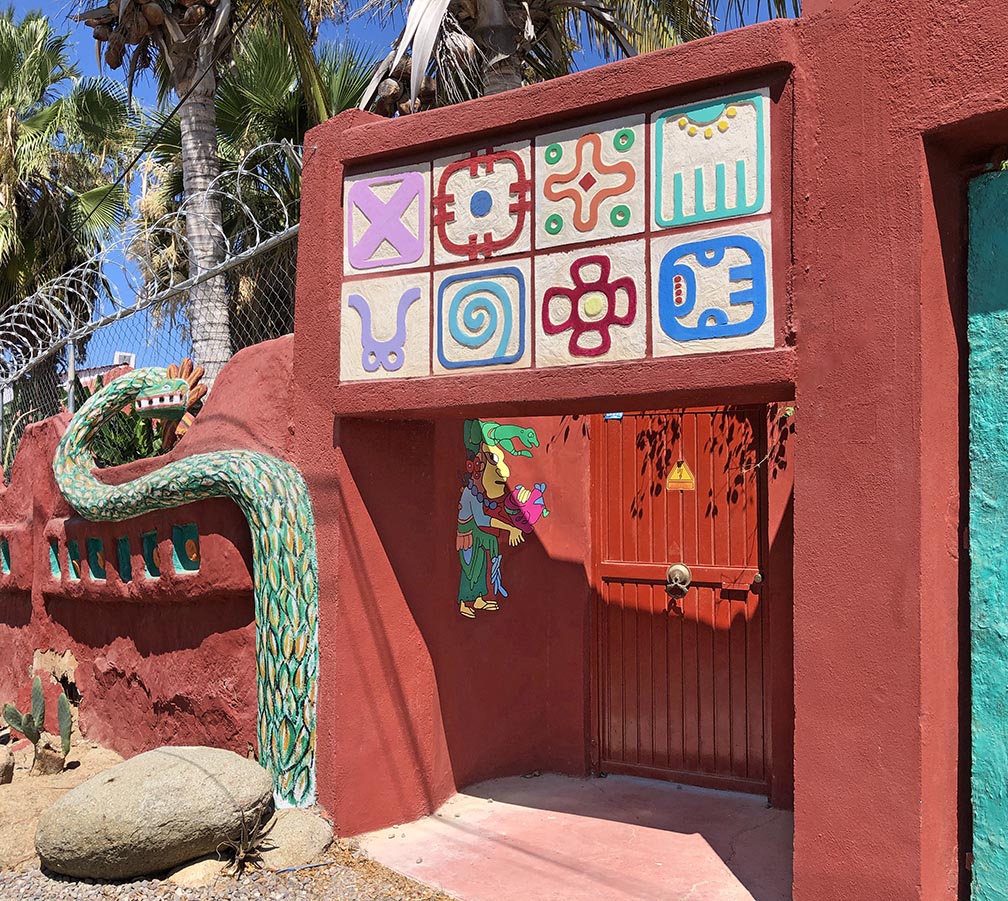 Other gates have designs that express the interests of their owners. For example, fish themed gates in the beach communities along the East Cape.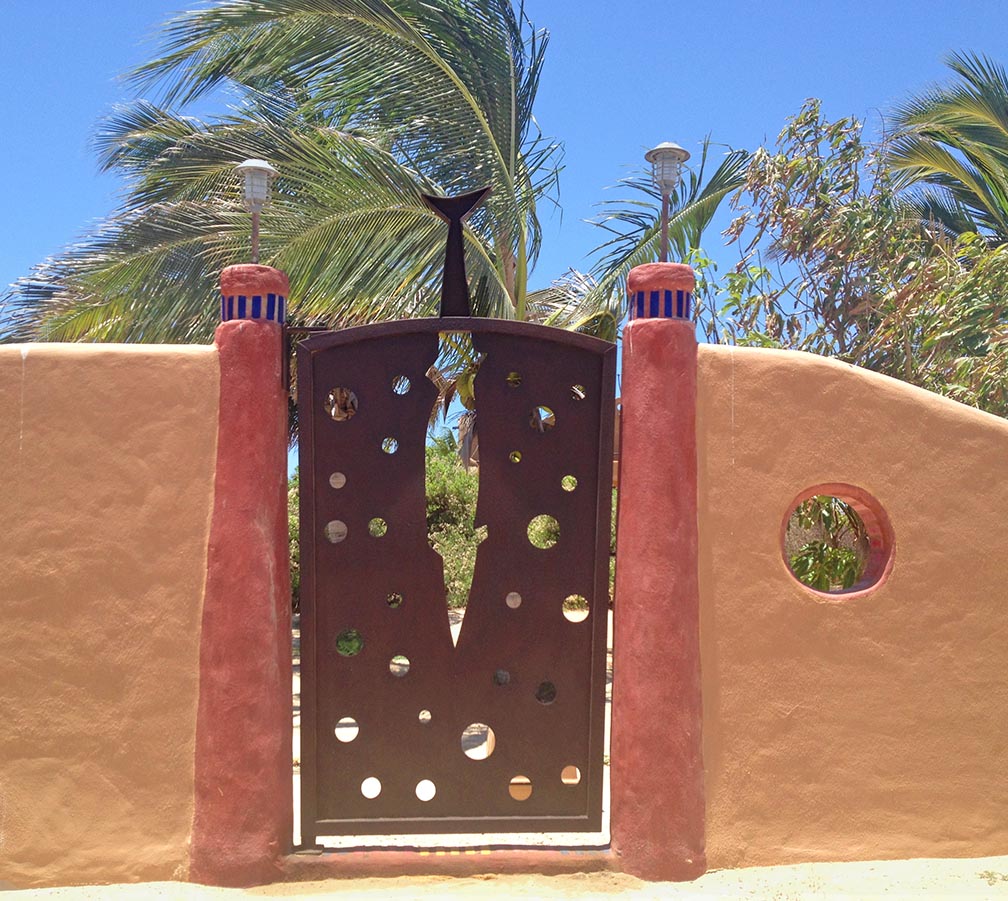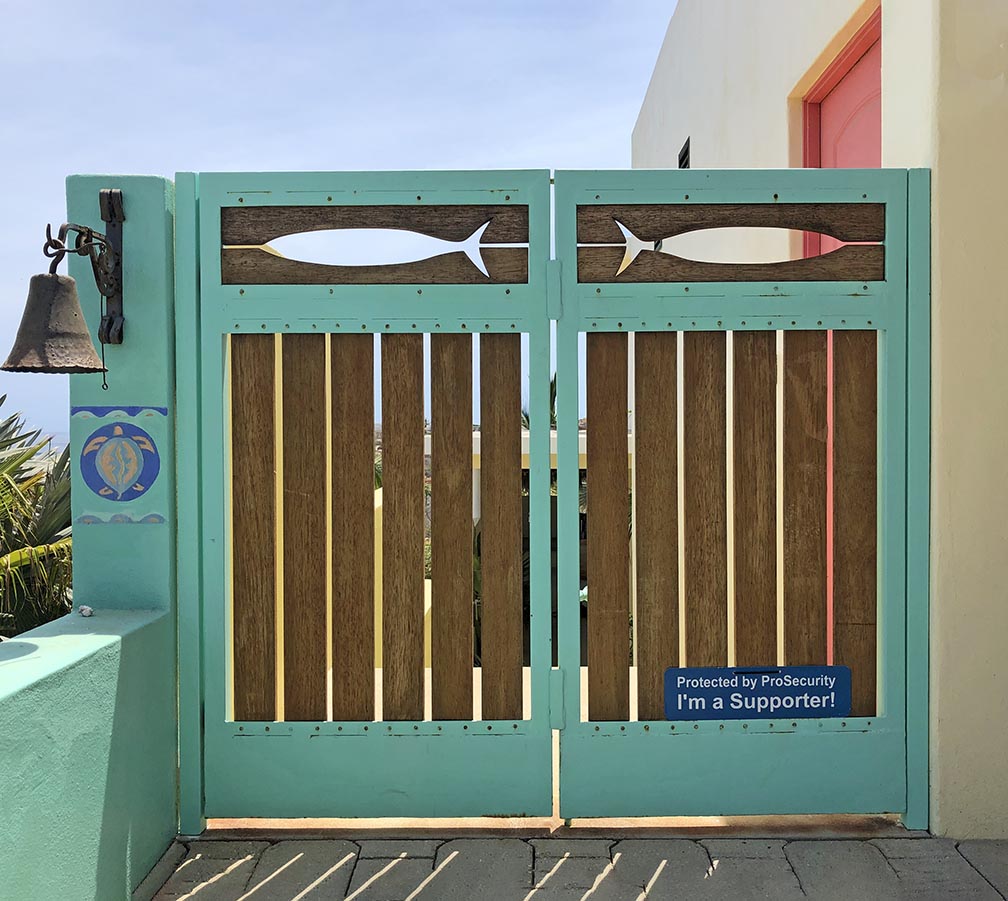 Here, you have not just a marlin, but netting and ship's anchor as well.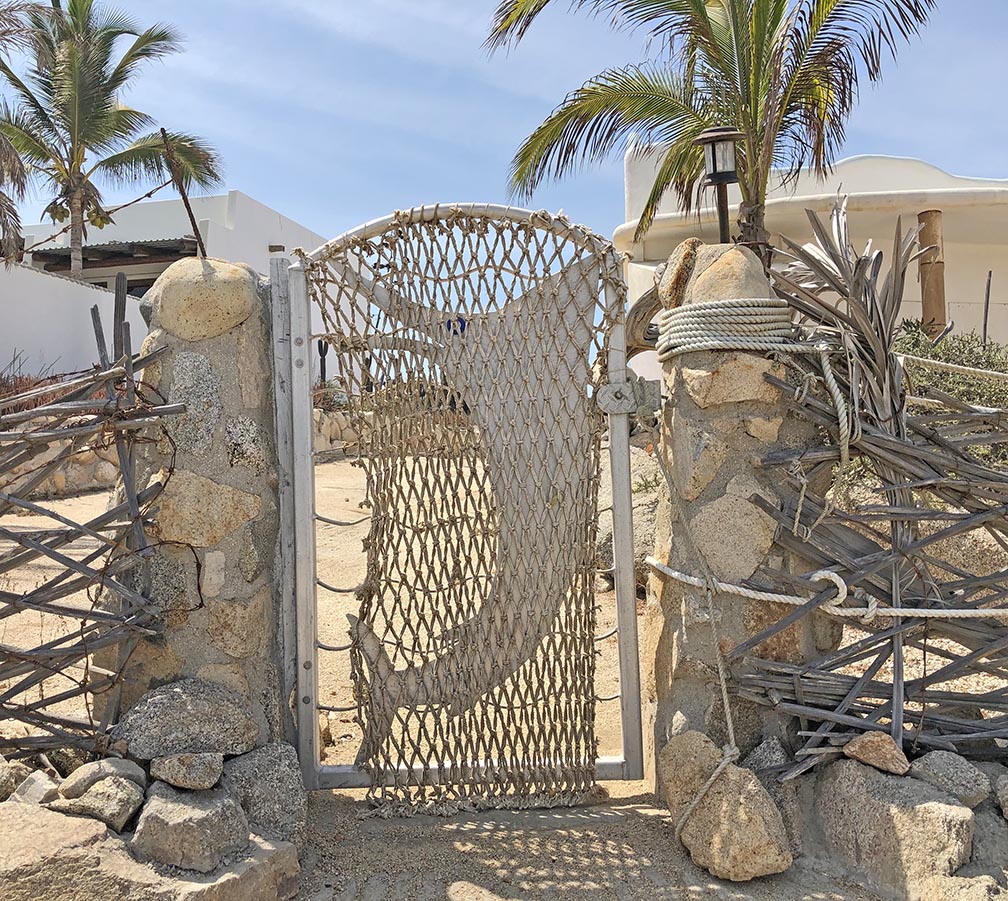 Finally, it's not surprising, given the abundance of big rocks in certain areas of Cabo, that they should also feature in local gate design. Here, stone edging gives substance and style to these rustic wooden gate doors.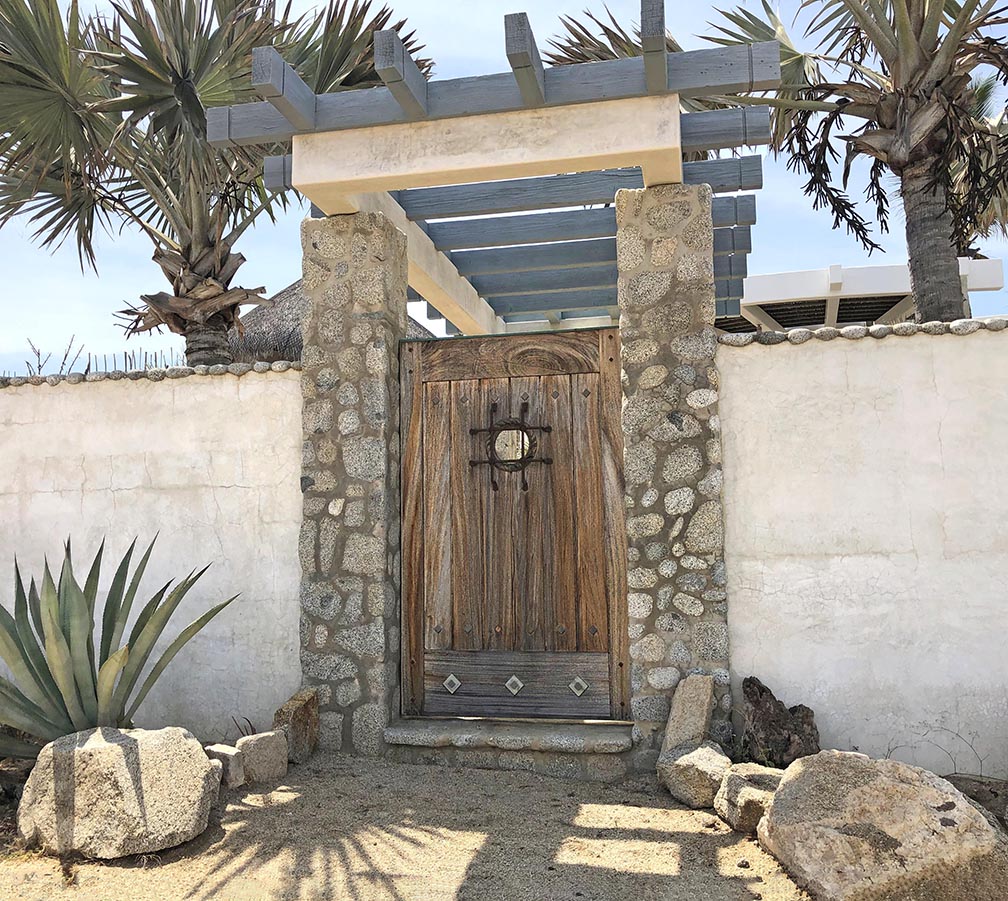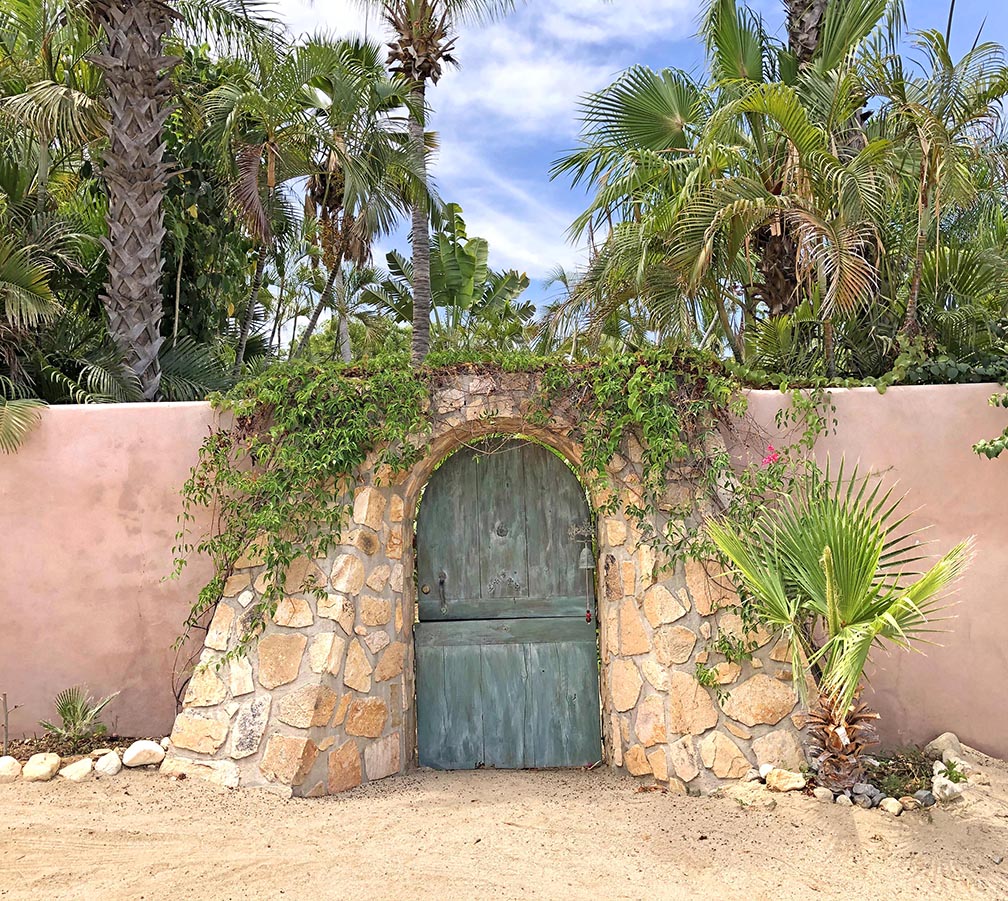 So, what gate style do you like? For me, its a simple one, just uneven wooden sticks, wire and rope. The kind you find at the beach or tucked somewhere in the countryside. My ideal is the gate at Casa Las Barracas, which we featured here previously. No heavy duty locks, no remote controls, you have to get out of your car, undo the rope and drag it open. I love the casualness and simplicity, the trust, and the poetry in the physical act of opening and closing. It is a type of gate that settles into its landscape, that has a quiet, simple beauty, and that is as welcoming to a visitor as it is a gentle reminder of boundary. It represents, in essence, all the things I love best about Cabo.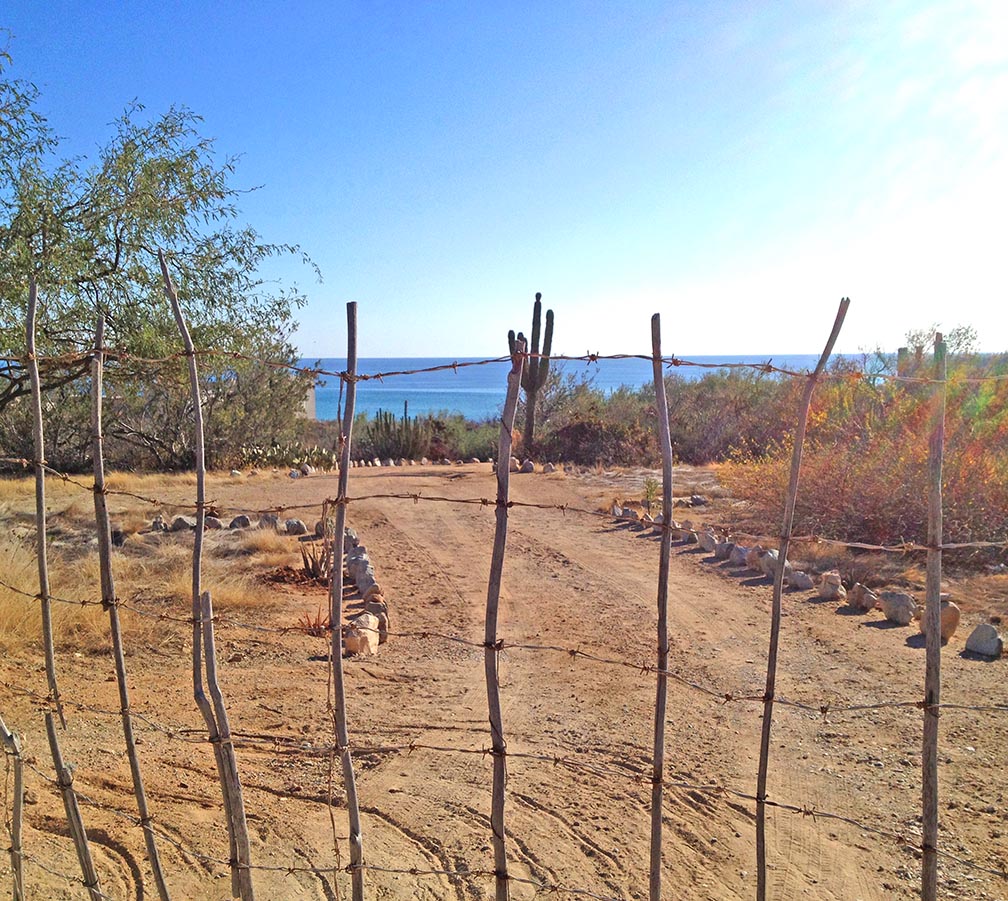 by Mei-lan Chin-Bing
We invite you to visit our properties online